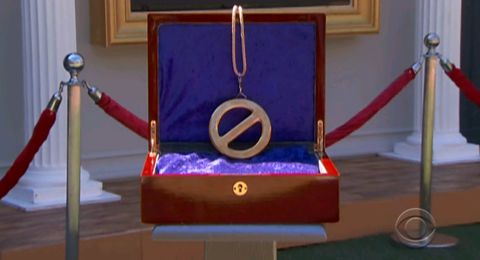 The latest Big Brother 15 Power of Veto ceremony has been held and the results are in on the Live Feeds. With three nominations this season there are even more combinations of what could go down during this ceremony Read on for the BB15 spoilers to find out if the Veto was used and who are the latest nominations.
Just as we discussed earlier, Kaitlin used the Veto to save herself from possible eviction. As one of the HoH's nominees Helen had to name a replacement for Kaitlin. I imagine with great pleasure Helen announced Jeremy as this week's renom.
That puts Jeremy on a crash course to eviction come Thursday night. He's likely got 2 votes of support from Kaitlin and GinaMarie, but they'll need three more to keep Jeremy and send home either Aaryn or Spencer, his fellow nominees. I really don't see that happening.
At this point Jeremy knows he's doomed which gives him two options: be a huge jerk or suck it up and seek forgiveness in hopes of staying in the game. He promised the girls he'd go out in a blaze of glory and from what we've seen so far Jeremy would know how to do that well.
Later this week we'll see who heads out the door when this week's live eviction arrives on Thursday as part of the revised schedule for the 2013 season.
Jump on your Live Feeds now to watch the house react. Don't have the Feeds yet? Get your Free Trial right now and see what other fans are watching right now.
click images to see full-size