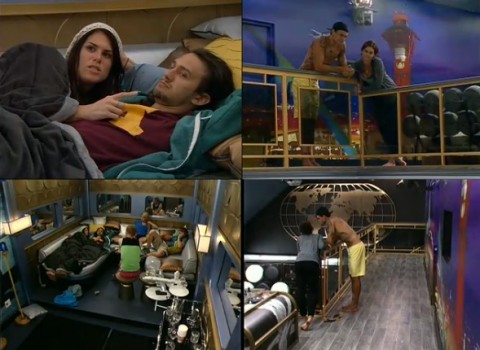 It was a quiet Sunday in the Big Brother 15 house as everyone eerily got along and had fun for the most part. Most people in the house spent the day convincing Kaitlin to use the Power of Veto, which might be a Big Brother first. If not, then it's definitely rare that a house has to actually campaign to a person TO USE the POV.
Read about all the moments from the house on our Live Feeds highlights below. And remember that you can check out any of these moments by using the Live Feeds flashback/archive feature.
Big Brother 15 Live Feed Highlights – Sunday, July 14, 2013 
11:25 AM BBT – Judd and Helen discussing Jeremy's attempts to stay. He told Judd he has 3 votes, but they think he only has 2. Jeremy will need 5 votes against Spencer or Aaryn to stay.

11:40 AM BBT – Judd tells Jeremy he's offended no one asked him to join the MC, but then says he wouldn't have joined it anyway. "Terrible idea that early," says Judd.

11:50 AM BBT – Jessie comes out and joins in on 'dump on Jeremy day'. She's upset that he lied to her about the MC and their own deal. Jessie is also giving him grief for his behavior.

1:00 PM BBT – Aaryn and Kaitlin agree that Jeremy's ego and aggressiveness in the house was his downfall.

2:45 PM BBT – Andy working on Kaitlin to make sure she'll use the Veto. She understands that even if she saves him and goes home this week herself he'll continue to be the target and go home next.

3:45 PM BBT – Photo booth is open. GinaMarie taking pictures with Nick's belongings.

4:49 PM BBT – Jeremy has a fly around him. He says, "I'm African. We're used to it." Howard & Andy get up and leave.

6:15 PM BBT – Spencer says if he wins Head of Household that he won't target Judd, Helen or Andy.

6:48 PM BBT – Kaitlin is still suggesting she may not use the Power of Veto in order to save Jeremy. Helen and Elissa tell her that if she uses the veto they will protect her and support her. Helen tells her that America will love her. They even tell her that she can vote for Spencer so that she doesn't have to actually cast a vote to evict Jeremy.

7:50 PM BBT – Amanda asks Kaitlin who she'd nominate if she wins HOH. She says Spencer and Howard. Amanda likes that answer.

7:57 PM BBT – Jeremy goes outside wearing GinaMarie's baby outfit and Kaitlin gets mad at him because she says her parents will not like seeing that. OK?

8:39 PM BBT – Elissa, Helen and GinaMarie do Jersey Shore impersonations for the other Houseguests (full makeup and hair).

9:24 PM BBT – Jeremy tells McCrae and Amanda that if they keep him and he wins HOH, he will nominate whoever they want.

9:30 PM BBT – Jeremy asks McCrae, Amanda and Judd to evict Spencer. When Jeremy leaves Amanda says there's no way he's staying (if Kaitlin uses veto and he actually goes up).

9:40 PM BBT – Really ridiculous talk fueled by boredom and cabin fever starts about keeping Jeremy.

10:43 PM BBT – Jeremy is now appealing to Judd to not let all the guys get voted out. Judd isn't too interested in keeping Jeremy it seems.

11:05 PM BBT – Most of the house agrees that if Kaitlin doesn't use the veto she will be the one evicted.

11:28 PM BBT – Amanda and Aaryn are talking about Elissa saying she wants to leave the game before jury so she can get back to her family. Interesting.

12:00 AM BBT – Amanda, Judd, Andy, and McCrae pledging allegiance to each other to the end.
It sounds a little like Kaitlin has finally got the Big Brother fire in her belly and is ready to play the game. She may be making the others sweat a little with threats that she won't use the POV, thus saving Jeremy. But I think we can expect her to use it and Jeremy to go up in her place.
You can watch all of these Big Brother 15 events using the archives flashback, the DVR-like feature of this year's Live Feeds which means it's always live, even when you missed it! Sign-up now to get the free trial to watch it all live & uncensored.