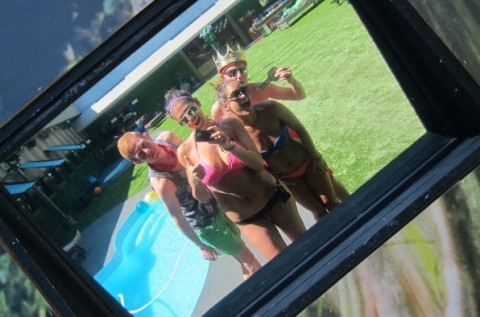 Today on "Big Brother 15" the Houseguests will gather in the living room for the Veto Ceremony. This week's PoV winner will announce whether or not it will be used and then if it is used a replacement nominee will be revealed. Right now you watch the HGs prepare for today's meeting if you signup for the live feeds of the in-house cameras.
So far there has been plenty of drama throughout the house over both the nominations, the MVP nomination on Saturday, and the potential outcome of the Veto win from Saturday. Read on for those spoilers and find out what is going to happen later at the Veto Ceremony.
Spencer won the Veto in what sounds like a puzzle competition from Saturday evening. As one of this week's nominees it is obvious that yes, the Veto will be used and it will save Spencer from possible eviction. Realistically, Spencer was never in much danger and would have been safe this week as long as Howard didn't win the Veto. All the same, Spencer should keep himself safe and he will.
Once Spencer vacates his seat on the couch a new HG will be named and that will be up to Aaryn since she nominated Spencer on Friday. The obvious expectation is that Candice will be nominated. Aaryn doesn't like her and the house wants Howard out so putting Candice on the block keeps one supporting vote out of Howard's hands.
When that happens we'll have a final set of nominations for Week 5 featuring Howard, Candice, and Amanda. Come Thursday I still expect Howard to be the target though Candice was crying last night saying she was the target and the house was trying to backdoor her this whole time. Nevermind that she played in Veto which means she couldn't technically be backdoor'd.
Who do you think Aaryn should renom when Spencer saves himself? Which HG would you then want to vote to evict to help your own game if you were on Big Brother?