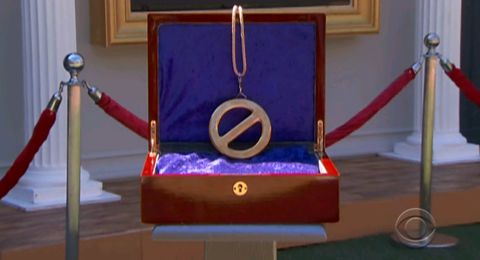 Houseguests have wrapped up the Veto Ceremony for this week on "Big Brother 15." You can sign-up for the live feeds now and watch the houseguests plot and plan for Thursday now that they have the final nominations.
While we've had the fun of watching the MVP renom mysteriously revealed in past weeks things were a little less of a surprise this time around. Read on to find out who is now on the block and faces possible eviction on Thursday night.
No surprises today when Spencer decided to use the Power of Veto to undo Aaryn's nomination and move himself to safety. With him out of the way Aaryn did what she had previously confirmed she would do and nominated Candice.
Candice now sits next to Howard as Aaryn's nominees. The third nominee remains Amanda and puts her in a potential risk of elimination.
As things are right now it would be unlikely for Amanda to go unless the house makes a major shift. If the vote were held right now then Howard would be evicted.
All the same, Amanda is freaking out just like she did on Saturday. This is really entertaining. Helen talked with Spencer about the possibility of voting out Amanda. He doesn't seem to get it but she keeps saying "if I'd be the 5th vote…" This could grow legs and go somewhere. Keep watching!
Do you think Aaryn made the right choice for her renom? Which of the three HGs would you vote to evict?
Jump on your Live Feeds now to watch the house react. Don't have the Feeds yet? Get your Free Trial right now and see what other fans are watching right now.