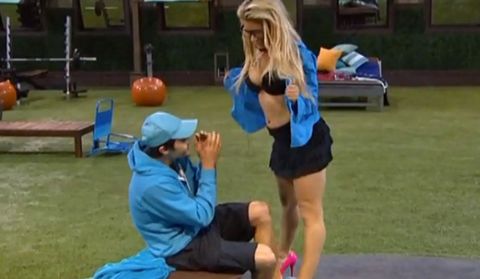 Later today on Big Brother 15 the Power of Veto Ceremony will be held where this week's winner of the PoV can decide what to do and set up a new series of events depending on that outcome.
We've been watching the Live Feeds and have a pretty good expectation for what's heading our way. Read on for the spoilers discussion.
Over the weekend, MVP nominee Jeremy secured his safety be winning this week's Veto. He will of course be using the Veto on himself and forcing a renom. This should be interesting as it's the first time the MVP will have to replace the original nominee. For those wondering, yes, the MVP replaces his/her own nom while the HoH would replace his/her own noms, depending on how the ceremony went.
This week's MVP, Elissa, is wavering between two options. She could renom Kaitlin to still go after Jeremy in an indirect manner, or she could renom Nick who she sees as a strong competitor and challenger in the game. Both could be a mistake, but one more so than the other.
What Elissa doesn't know is Nick's connection and protection from the Moving Company alliance. Just as Jeremy would be protected by the MC, so would Nick. That's four votes toward safety out of the six needed to stay in the house this week. Elissa has been deceived by other HGs including Howard who is doing a great job of hiding his MC alliance. She believes they have the support to evict Nick, but they don't.
Elissa's other option being considered is to go after Kaitlin. While Kaitlin would likely draw indirect MC support she might be an easier target. It appears Aaryn could be turning on Kaitlin which could help create eviction votes against her from GM and possibly Jessie who would likely do anything to gain favor from Aaryn again.
No matter who is named as the renom I believe Elissa is in real danger this week. Helen, her co-nom, is in really no danger of going anywhere so it's either Elissa or who she picks as the MVP renom. If she chooses poorly, it's all over for Rachel's sister.
What do you think Elissa should do? Does she have a better chance against Nick, Kaitlin, or a different HG? Share your thoughts.