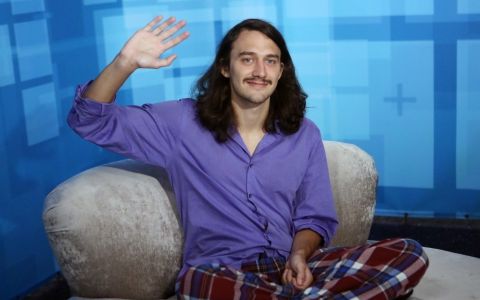 Today in the Big Brother house the HGs will gather for the Veto Ceremony and from what we've watched on the Live Feeds it's safe to say what's set to happen. Read on for the spoilerish discussion and learn who will be the final nominations for the upcoming first round in the Double Eviction on Thursday.
McCranda found themselves blindsided at the Nominations Ceremony, but they didn't let that slow them down. McCrae went on to win the Veto and it was a good thing for his game as he was definitely the real target.
Despite the Exterminators attempts and wishes, McCrae will be using the Veto on himself and not Amanda. When he comes down from the block GinaMarie will have to name a replacement.
McCranda pushed for Elissa or Judd to be the renom and GM acted as though she was considering that option, but that was never an option for her. Since McCrae won the Veto the Exterminators agreed it had to be either Spencer or Andy going up on the block. They could still control the votes with two Exterminators voting and GM breaking the tie. This would also help to hide their alliance from the three HGs not included.
Spencer offered himself up as the pawn after Andy whined to them that he didn't want to go up again. Sure, make the guy that's already done it five times do it again. Spencer will be safe so he really doesn't need to worry.
The final nominations for Week 10 will be Amanda and Spencer. On Thursday Amanda will be voted out and that might even include a vote against her from McCrae as he's told her he's worried about voting with the house.
What do you think of this renom plan? Is GinaMarie picking the right HG to put up against Amanda or would you have made a different choice?
The Veto Ceremony will be held midday and we'll post the spoiler results to confirm what we've detailed above. With her back against the wall we could be having some great times ahead on the Live Feeds as Amanda counts down to her big night.
Images from last night at 10:25PM BBT as Amanda yelled at GinaMarie over renoms.