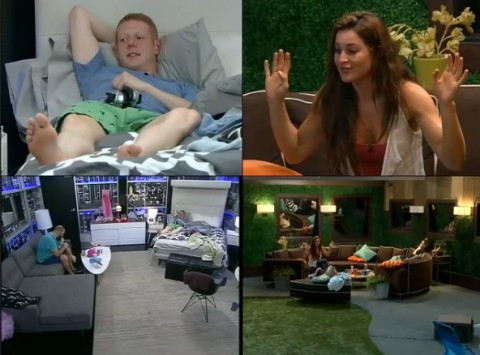 The Big Brother 15 house had its ups and downs this Sunday. McCrae and Amanda spent the day trying to talk GinaMarie into putting Elissa up and Judd did everything he could to convince McCrae to use the veto on Amanda instead of himself.
Read about those moments and others on our Live Feed highlights below. And remember to sign-up now for the Big Brother Feeds so you can watch any of these moments by using the Flashback archive feature.
Big Brother 15 Live Feed Highlights –  Sunday, Sept. 1, 2013
10:09 AM BBT – Feeds cut. Wake-up time.

11:15 AM BBT – Judd and Elissa talking about the huge move GinaMarie made by putting up McCrae and Amanda.

12:00 PM BBT – House is pretty quiet. Some are still in bed.

2:15 PM BBT – Judd talking to Amanda. He tells her that if McCrae uses the veto on her and GM puts Elissa up, Elissa will go home. This is all a part of Judd's plan to get McCrae out before Amanda.

2:30 PM BBT – Photobooth is open.

3:05 PM BBT – McCrae is talking about the possibility of using the veto on Amanda so GinaMarie can put Elissa up. This is because he thinks the others would vote out Elissa over himself.

3:43 PM BBT – Now McCrae is talking to GinaMarie about using the veto on Amanda. But the plan isn't to actually use it on Amanda. They just want her to agree to put up Elissa.

4:00 PM BBT – Judd still working to get McCrae to use the veto on Amanda.

5:05 PM BBT – Spencer and Andy ALREADY discussing who needs to go first out of their alliance. They decide Judd needs to go before GinaMarie.

6:50 PM BBT – Amanda goes to ask GM what she's thinking. She tells her she still doesn't know who she's going to put up. Amanda is still pushing for Elissa.

7:05 PM BBT – Amanda is begging GinaMarie to put up Elissa. She's crying and promising her everything.

7:13 PM BBT – Elissa tells GM that it's too risky to put Judd up.

8:40 PM BBT – Production is getting mad because they won't stop talking about production.

10:07 PM BBT – Spencer and GinaMarie are talking about telling McCrae and Amanda that Spencer is going up instead of Elissa.

10:22 PM BBT – Amanda and McCrae go to find out what GM is doing with the replacement nomination situation. GM tells Amanda that they need to break up the power duo. Amanda starts yelling at GM and says it makes no sense to send one of them home when they can easily send Elissa home. GM says she is not putting up Elissa. Amanda eventually gets that she's going home and storms out of the HOH room.

10:46 PM BBT – Amanda explains to Judd how his eviction came about. She tells him about the MVP paranoia. She goes on to share other secrets to Judd, Elissa and Spencer.

10:51 PM BBT – Amanda apologizes to Elissa for getting personal with her. She tries to get Elissa to apologize as well, but Elissa doesn't.

10:53 PM BBT – Amanda admits she wanted to make it to jury because she was afraid of facing the real-life problems she created since coming in the house (like her showmance with McCrae even though she had a boyfriend at home).

11:00 PM BBT – Amanda breaking down her game, all her moves and how she never watched Big Brother until recently. She's laying all of her cards out because she realizes she's going home. Amanda said she wanted her Diary Room sessions to be funny like Britney Haynes. She also liked Evel Dick and Rachel. She kind of reveals what a lot of people have thought about her and that she formed a Big Brother character and has been playing it.

11:30 PM BBT – Most HGs are outback. Elissa is getting in a lot of Amanda digs. Amanda is surprisingly not taking the bait.

12:00 AM BBT – HGs discuss whether or not Jessie was a floater. They decide she was more of a flip-flopper than a floater.

2:00 AM BBT – Judd and GM discussing McCranda and the Veto. Judd knows McCrae won't use it on Amanda at the Ceremony. They want McCrae gone next, but expect him to target Elissa if he wins HoH. Judd thinks they can get a F4 with the Exterminators.

2:15 AM BBT – Amanda in the backyard shouting about GinaMarie being the one to take her out of the game and bashes GM.

2:55 AM BBT – Amanda detailing all the rooms where they've had sex and pretty much covers every room but the kitchen and living room. Amanda thinks GM is going after her because she's jealous of their relationship.

3:30 AM BBT – McCrae tells Amanda he can't use the Veto on her. She understands and wouldn't let him even if he wanted to. They head off to bed.
There was a possibility that McCrae would use the veto on Amanda, but no one really expected it and now it's been confirmed that he won't. It sounds like Amanda has accepted her fate and she'll be heading home this week. But anything can happen.
You can watch all of these Big Brother 15 events using the archives flashback, the DVR-like feature of this year's Live Feeds which means it's always live, even when you missed it! Sign-up now to get the free trial to watch it all live & uncensored.
click images to see full-size