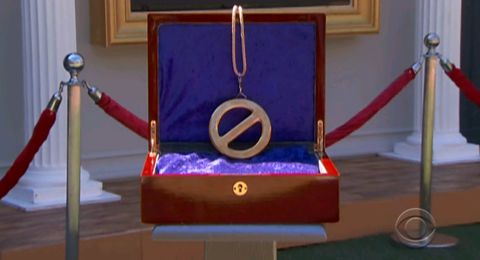 The Veto Ceremony results and spoilers are in for this week on "Big Brother 15." You can sign-up for the live feeds now and watch the houseguests plot and plan for Thursday now that they have the final nominations.
Read on to find out the latest spoilers and discover who is on the block.
This week's Veto winner, McCrae, used the Power of Veto to save himself.
GinaMarie, the current Head of Household, was forced to name a renom. She picked Spencer as planned which puts him up against Amanda for this week's final nominees.
With two Exterminators voting and a third controlling the tie-breaker they will decide who goes to Jury this week and that'll be Amanda.
The Feeds returned to a calm house with McCranda tucked away in their bed corner as usual and the other HGs roaming around the kitchen and backyard.
As one of the most volatile HGs all season I'm fully expecting Amanda to fight hard this week and cause some real fireworks which means the Feeds should be great fun.
Do you think GM made the right choice for the Veto renom? Which of these nominees would you like to see evicted next?
Jump on your Live Feeds now to watch the house react. Don't have the Feeds yet? Get your Free Trial right now and see what other fans are watching right now.