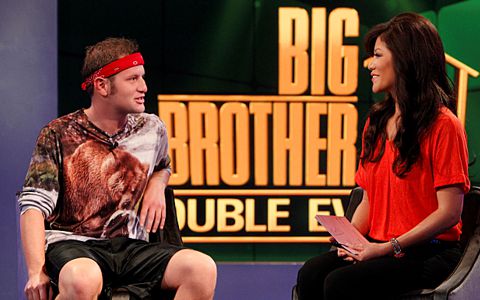 Last night on Big Brother 15's Double Eviction episode we began hearing some cryptic messages from host Julie Chen. These messages and what we've heard on the Feeds this morning appear to support the theory that an evicted HG will be returning to BB15.
Before the evicted HGs came out last night, Julie announced to us that she would not reveal any information from the outside world. When she spoke with them she did not mention the MVP twist or how America voted for it nor did she reveal any other unknown details to either evicted HG.
Instead Julie told viewers when Candice was about to be evicted "she is still part of the game" and then told Candice "it's goodbye for now, but there's still a lot of summer left."
Also of interest, you may notice we don't have an eviction interview today. No chance for us to indirectly pass along details by asking questions keeps these HGs in the dark.
Then this morning (9:47AM BBT) on the Live Feed, sign-up now for your 2-day trial, Aaryn announced she was asked in DR what she would think about an evicted HG getting the chance to compete to return to the game. Fish eventually arrived, but we were able to hear her full statement before that happened. HGs didn't sound happy about it.
Update: Hah! Well nevermind on Aaryn's comments. She then added when Fish returned that she was joking. The rest of these supporting points still stand.
If this is happening then I'm guessing Big Brother will be keeping all the Jury members isolated from one another to avoid a repeat of Big Brother Canada's situation. Gary was able to return to the game after having spent time mingling with other evicted HGs in Jury. They were able to share notes and commiserate over their eviction, possibly galvanizing support for one another. I don't think we'll see that happen again anywhere.
I think there's a definite possibility that an evicted HG from Jury (not pre-Jury) will be coming back. No idea if it would be by viewer votes or a competition like we saw when Brendon trumped Lawon's "special power." And really I have no idea if this is a sure thing, but the signs point to something like this happening.
What do you think? Should a Big Brother Jury member return to BB15? Vote below.