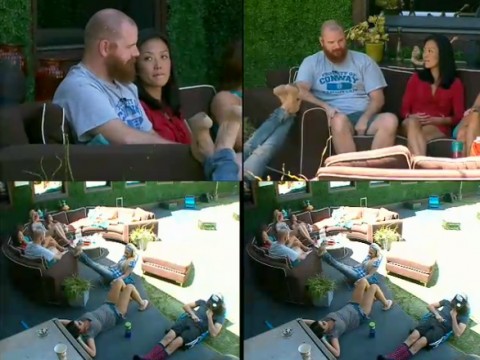 In the wake of the double eviction that sent Candice and Judd out the door, the Big Brother 15 houseguests are wondering if they made the right move blindsiding Judd and are beginning to look ahead. As for Andy, he appears to have no intentions to rock the boat this week. It looks like if you want any dirty work done, you have to get Aaryn to do it.
Read about those moments and others on our Live Feed highlights below. And remember to sign-up now for the Big Brother Feeds so you can watch any of these moments by using the Flashback archive feature.
Big Brother 15 Live Feed Highlights –  Friday, Aug. 9, 2013
8:03 AM BBT – Feeds cut. Wake-up time.

8:31 AM BBT – Production loudly tells the HGs to get out of bed.

9:40 AM BBT – McCrae still feels bad about Judd. Helen, of course is running her big mouth saying Judd going was for the best.

9:50 AM BBT – Aaryn says the Diary Room asked her how she'd feel about one of the houseguests returning. Feeds cut. Aaryn tells them she was joking. Helen was freaking out.

10:27 AM BBT – Spencer and Andy solidify an alliance. When Andy leaves, Spencer calls an alliance with himself the "kiss of death."

10:50 AM BBT – Andy is talking to McCrae and Amanda about his plan. The plan is to target Jessie, put her and Spencer up and if one of them comes down, GinaMarie goes up. They agree that if GM goes up, she needs to go. Then they start all this foolish talk about Amanda or Helen as a pawn to blindside Jessie. They're truly acting like Jessie is some sort of threat. This cast truly can't get any worse at this game.

11:11 AM BBT – Now that Helen got her way and sent Judd out, her devious mind has moved onto Amanda and McCrae. She tells Andy she's afraid they're running out of time to get them out. Andy says he doesn't think they'll be coming after them so sending them out doesn't make sense.

11:15 AM BBT – McCrae says if he finds out Judd wasn't MVP he will be really upset.

12:16 PM BBT – Andy tells Jessie that she is not his target.

12:45 PM BBT – HGs are on backyard lockdown.

1:40 PM BBT – Feeds return after being cut. Have-not food revealed to be mung beans and mackeral.

1:44 PM BBT – Andy again says he wants to blindside Jessie. Not sure why, but OK.

2:08 PM BBT – Andy presents a soft reveal to Amanda that Helen might be coming after her. He says she's a thinker and was just thinking out loud when she said they might need to go after McCrae and Amanda.

3:48 PM BBT – Amanda tells McCrae she has a weird feeling she no longer trusts him after the whole Judd blindside thing. He says he's just still upset over it all.
So right now the plan is to blindside Jessie because Andy apparently feels she is a threat? Whatever, nothing any of them are doing makes sense so I'm going to stop trying to understand them.
You can watch all of these Big Brother 15 events using the archives flashback, the DVR-like feature of this year's Live Feeds which means it's always live, even when you missed it! Sign-up now to get the free trial to watch it all live & uncensored.
click images to see full-size