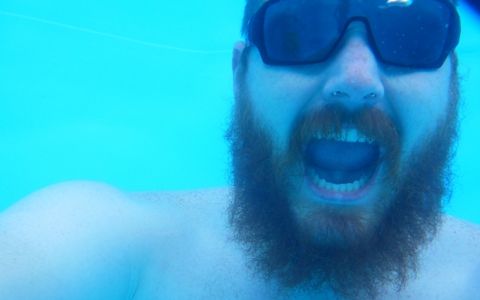 Now that we have a new Head of Household for Big Brother 15 thanks to a late night competition it's time to start looking at the pending nominations. If you'd rather wait for the HoH to be revealed on Sunday's show then steer clear of our spoiler discussions.
After surviving a knock-out style competition to be the last HG standing, Andy became Head of Household. That means we're in for a very predictable "whatever you want, Amanda & Helen," kind of week.
You can sum up Andy's entire plan for the week in one short minute. Flashback on your Feeds to 10:28PM BBT 8/8 Cams 3/4 to find Andy and Amanda talking alone.
click images to see full-size
Andy confirms what we would expect. He's going to nominate Jessie and Spencer. He plans to pull Spencer aside and promise him he is 100% safe this week. Jessie is the main target.
If Jessie wins Veto and comes down then GinaMarie will go up as the renom and become the new target. Andy fears that GM wouldn't understand the plan and come after him if he were to put her up against Jessie in the first place.
Amanda agrees with the plan and idea of making Jessie the main target. They quickly break and go back to what they were doing before.
So there you have it. There's no MVP twist anymore to shake this up so we can just skip ahead to next Thursday's eviction episode and hope for a shift in power.
The Nomination Ceremony will take place later tonight and then the Veto Competition will follow on Saturday afternoon with the Veto Ceremony on Monday afternoon. Keep checking back all weekend for more updates and details from inside the house as we continue our daily BB15 coverage.