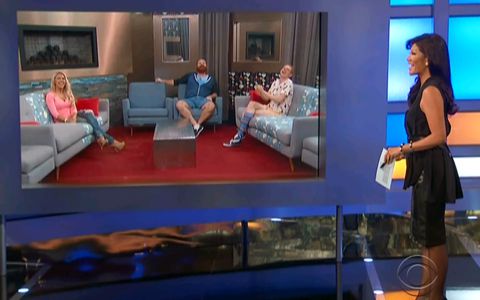 Note: CBS says tonight's BB15 will air 50 mins late in East & Central timezones due to sports delays. West coast broadcast will be on time. Adjust your DVRs accordingly.
Big Brother is back tonight for its final Sunday episode with just two shows left this season. After Thursday's elimination of McCrae the Exterminators were left to face off in a 3-part final HoH competition where there can be only one!
Tonight's episode will feature the first round of that final battle and as far as endurance competitions go, well let's just say this episode without commercials would still last longer than these three HGs did on Thursday night. Weak sauce.
If you've been following along on our Big Brother spoilers then you already know who won Round 1 and which two HGs were left to face off in Round 2. Of course we now know even more as Round 2 was completed very late last night and we have those spoilers here as well. The second round won't air until Wednesday's show and we didn't get to watch any of it so there's still plenty more to discover.
Along with watching the endurance competition in tonight's show we'll also be treated to a walk down memory lane as Andy, GinaMarie, and Spencer enjoy a nice brunch, a little champagne, and reminiscence of Big Brother days gone by. So yes, that part is going to be a clip show, but those can still be fun. Sometimes. Hopefully.
Join us tonight during the show to share your thoughts here with other fans and then check out our recap later tonight. The season finale is almost here!
Big Brother 15 – Episode 35 Preview:
http://youtu.be/zInXMKcYBnk