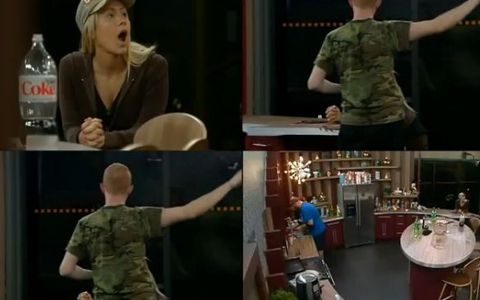 The very well-rested, final three HGs had a slow but important day. After sleeping most the day away the third and final round of the Final HoH was held late in to the night and ran over in to Big Brother After Dark by about 80 minutes. We know now the winner of the second competition and are ready for what to expect on Wednesday night when two HGs face off and the third watches as the Final Two is formed.
Read about those moments and others on our Live Feed highlights below. And remember to sign-up now for the Big Brother Feeds so you can watch any of these moments by using the Flashback archive feature.
Big Brother 15 Live Feed Highlights –  Saturday, September 14, 2013
11:00 AM BBT – HGs are up and moving about the house, but still on lockdown.

12:20 PM BBT – GM is back in bed so Andy and Spencer talk game. Spencer asks if Andy will take him to F2. Andy says he would. Spencer promises him he'd take Andy over GM.

12:45 PM BBT – HGs all head back to bed.

2:45 PM BBT – GM called to the DR leaving Andy and Spencer to talk.

3:00 PM BBT – Spencer keeps trying to convince Andy that GM is too dangerous to take the the F2.

3:45 PM BBT – Spencer talking to GM and promising teach other they'll take the other to F2. GM keeps saying she can't take Andy.

4:15 PM BBT – GM dresses up in Exterminator gear (looks like Ghostbusters, kinda) and goes around the house fake spraying and exterminating. She "sprays" the Memory Wall then goes and cleans McCranda's bed. Hey, at least she's trying to be entertaining for us while giving her something to do oo.

7:30 PM BBT – Feeds go to Trivia for the second part of the Final HoH.

9:00 PM BBT – BBAD begins, but Feeds remain on Trivia. On TV we can only watch GM playing cards. Later Spencer is seen tearing up and reading his letter out loud.

10:18 PM BBT – Feeds return. Andy is very animated and excited as he describes the competition to GinaMarie. Spencer says she's going to sleep all day tomorrow out of depression. Andy won Round 2.

10:30 PM BBT – When Spencer goes to take a shower GM gives Andy an excited, happy face in the kitchen for just a moment.

10:59 PM BBT – While Andy showers Spencer pulls GM aside and promises her that he tried his hardest. She's panicked that she can't beat Andy in Round 3. Spencer is coaching her on what to expect. She's very worried.

11:48 PM BBT – Spencer called to the DR. Andy and GM talk game in his absence. Andy promises GM that there's no way he's taking Spencer no matter what Spencer might say to convince him.

12:45 AM BBT – GM and Andy hanging out in the living room. She says she knew Andy won because Spencer took forever. Earlier we heard Andy beat Spencer by 15 minutes.

1:00 AM BBT – Spencer is back and is drinking a few beers and talking with Andy and GM.

1:30 AM BBT – Spencer and GM alone in the kitchen. He's coaching her again on what to do in the final round.

2:30 AM BBT – Everyone sitting at the table playing cards.

3:30 AM BBT – HGs head off to bed.
Well there's nothing left to do but wait for Wednesday's show now. The HGs are done with all their competitions and events until Wednesday night when Andy and GM will face off for the title of final HoH and cast the last eviction vote. Until then we're likely to hear continued campaigning from each to cover all their bases no matter who wins the last competition.
You can watch all of these Big Brother 15 events using the archives flashback, the DVR-like feature of this year's Live Feeds which means it's always live, even when you missed it! Sign-up now to get the free trial to watch it all live & uncensored.
click images to see full-size