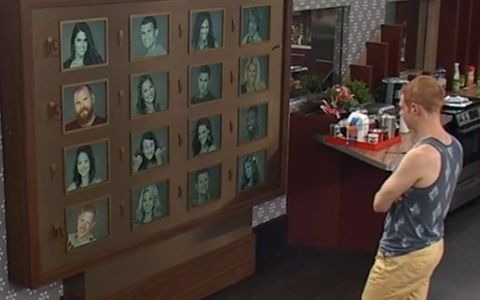 One last look at a weekend wrap-up here for the Big Brother 15 season. We're just days away from the season finale and while the pace of life inside the BB house has slowed there are still big events to catch.
Here's everything you might have missed since the last show but will definitely need to know to catch up. Warning: spoilers ahead.
Final HoH Round 1:
Instead of launching right in to the often awesome final HoH round 1 endurance competition after Thursday's show production decided to wait. Three hours. When things did kick off it was clear it wasn't going to last long.
Andy, GinaMarie, and Spencer competed in a "roller disco" competition that had them hanging on to overheard cable pulls being dragged around a ring on skates. Adding to the challenge was the quick arrival of bubbles plus water making a very slippery surface that lead to a quick conclusion.
Despite suffering from nine stitches in her knee from an earlier Veto competition GinaMarie pulled off the win. Spencer fell after about ten minutes while Andy lasted nearly thirty before bumping his knee on a cone and tumbling out.
Final HoH Round 2:
After GM won her ticket to Round 3 on Thursday we were left to see if Andy or Spencer would pull out the win in Round 2. These are typically individual, one-at-a-time comps and this was no different.
Starting late on Saturday night the two competitors spent nearly three hours on the round which left viewers with roughly eighty minutes of GinaMarie playing solitaire on "After Dark." Exciting.
When the competition was over the results were revealed and Andy emerged as the winner. Spencer was dejected, but kept working both Andy and GM throughout the night that he was their best option at the end. Of course on the other side of that both GM and Andy privately confirmed that they would take each other. I'm not so sure I believe that from GM, but maybe from Andy. Maybe.
What's Next?:
The last round for this final HoH will be held on Wednesday night during the live finale show. From CBS' preview video for Sunday's show it sounds like we'll get to watch Round 1 and then that least Round 2 for Wednesday night.
During Round 3 Andy and GinaMarie will face off over likely nine questions, one from each Jury member. They'll have to answer an "A or B" quiz based on each Juror's thoughts from the season. The winner of that round will then cast the final eviction vote and move on to the Final Two and face the Jury's wrath votes.
Now that you're all caught up on Big Brother, what do you think of the potential outcome? Would you rather see Andy or GinaMarie win Round 3 and then would you rather see Spencer or the loser from Round 3 move on to the F2? Discuss!