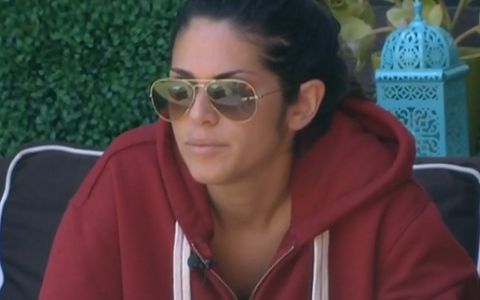 The tension in the house this week as Amanda scrambles for safety boiled over this afternoon on the Live Feeds. Big Brother 15 HGs Amanda and Spencer have been at odds for weeks now and when they finally found each other alone in the backyard their tempers boiled over in a heated argument that you've got to watch to fully appreciate.
Everything has been intensified this week as Amanda's paranoia and fears found life in a nomination. Sign-up for the live feeds now and watch the action for yourself.
Flashback to 12:29PM BBT Tuesday to watch the story unfold. Amanda is sitting alone with Spencer when she asks if the deal she had with him, Howard, & McCrae was ever real. He says it was but won't include Howard anymore. She suggests "the proof is in the pudding." Spencer doesn't care for that comment and it unravels from there.
Amanda: "I know what you think you're doing, but it's not going to work. You're just making yourself more of a target."
Spencer: "I think part of the reason I'm on the block is because of you, so I think that's just fine pudding."
They're both right. Both HG is going after the other, but both are going to lie about it here.
Amanda tells him she had nothing to do with that deal [Helen & Aaryn's deal]. "I don't believe that for one second, Amanda," replies Spencer. Insert dramatic pause and silence between the two.
Amanda says Spencer was never the target, but Spencer points out he was point blank told he would go home if he didn't in the Veto. McCrae told him that in the Storage room just after Amanda was nominated. I thought it was a mistake for McCrae to suddenly turn aggressor in that heated moment and lash out. Now Spencer is holding that very action against her and him.
Spencer continues to argue with her that and Amanda continues to battle back. When things get even more intense Spencer tells Amanda she threatens people to follow her will. He says he isn't a "punk ass bitch" who will bend to her demands.
Spencer says she is the reason he went up on the block. When she starts to talk over him he tells her to "shut up" and she starts raising her voice saying "you're a bully, you're a bully!" Amanda claims if you tell someone to shut up that makes you a bully. No, Amanda, that does not make someone a bully. The word "bully" flows like water in that house and is completely abused.
Spencer tells Amanda it's "chicken shit" to accuse someone of being a bully just because they disagree with her. That is what she's doing here.
Helen, who has been outside exercising in the backyard, heads inside to wake up McCrae and send him to rescue Amanda from the battle (12:38PM BBT).
If you haven't started watching the Live Feed yet then right now is the time to start. You can sign-up now to get the free trial and watch the Feeds with other fans.
What do you think of their argument? Which side would you take? With just two days before an eviction, starting fights might not be the best idea for someone on the block.
click images to see full-size