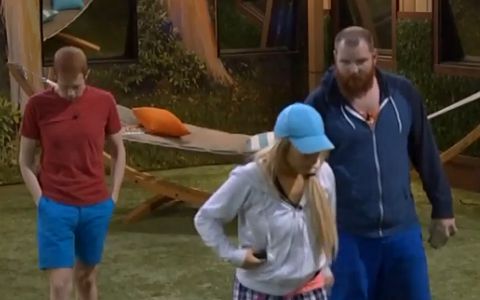 Another week, another alliance in the Big Brother 15 house. These HGs can't seem to stick to one plan for more than a few minutes at a time so it should be no surprise that a new allegiance has been pledged as an old one falls.
This week will usher in the demise of 3AM as two of its members now sit on the block. The remaining members will have to either fight on together or find a new home. It seems one of them is already moving on.
Flashback to 2AM BBT overnight (8/26) to find Judd, Spencer, GinaMarie, and Andy in the backyard. They're talking things over and all agree that no matter who is this week's renom they would vote out Aaryn. The idea being that any of them could go up. Of course Andy is driving this suggestion because Andy knows he's going up. Then again so does Judd and GinaMarie, but they go along with it anyway.
"I think we know who the poison is," says GinaMarie in reference to Amanda. Judd says he's worried about Amanda getting pushed to the finish line. "Her days are numbered," adds Spencer. Andy sticks up for Amanda, but says "I'm not a fool. I didn't come here to play for third place."
These four HGs come together as a new alliance dubbed "The Exterminators." Judd thinks it's fitting because they're going to get out "snakes and rats," referring to their McCranda and Aaryn. What about Elissa? Well surprisingly she might be in the clear.
Just before this talk GinaMarie was semi-praising Elissa saying she wasn't that bad. I guess that's better than saying you want someone out. They also know Elissa is a lame duck this week. She can't play for HoH this week so why bother pulling her in right now?.
Now of course I find Andy's trust to be easily questioned here. He's floating from alliance to alliance all season and this is possibly no different. Or maybe it is.
After the Veto Ceremony today where Andy went up, no surprise, he pulled Judd aside and told him that The Exterminators was what he still wanted. He added that they needed to keep up their relationship with McCranda just in case they won, but otherwise it sounds like game on. Note: he is keeping his options open.
Shortly after that Judd pulled Spencer aside and they also agreed to stick with their new alliance. What about GM? Aaryn gave her the go-ahead to vote with the majority and send her to Jury. Aaryn knows she's lost and coaches GM on her next steps forward.
If, IF, this group sticks together it could work well for a few weeks. They'll have a 4-2 advantage over McCranda for this next HoH competition. If they fail at this next HoH then they can try again the following week with 3-1 advantage.
The HGs learned an important lesson this week: McCranda is not invincible and they do not have to fear them. Now we'll just have to wait and see if they can stick together.
What do you think of the new Exterminators alliance? Can it work?
click images to see full-size