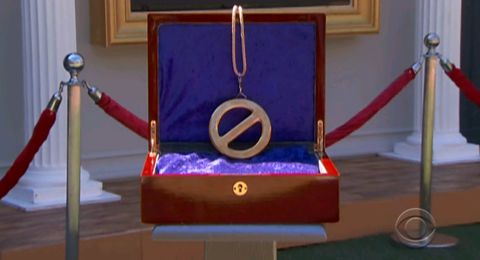 Houseguests have wrapped up the Veto Ceremony for this week on "Big Brother 15." You can sign-up for the live feeds now and watch the houseguests plot and plan for Thursday now that they have the final nominations.
Read on to find out the latest spoilers and discover who is on the block.
This week's Veto winner, Elissa, decided to use the Power of Veto, of course.
Aaryn was forced to name a renom and despite all the action last night to flip the house against Amanda she decided to go with the safe option. Aaryn named Spencer as the renom. The final nominations for BB15 Week 8 are Helen and Spencer.
Last night Spencer said he wouldn't vote out Amanda which made Aaryn wonder why he'd rather go on the block than vote out Amanda. Aaryn has taken this to mean Spencer is working with McCranda.
This morning Aaryn told Elissa that she couldn't renom Amanda without knowing for sure that she'd go home. With only supporting votes from GM & Elissa they remained one vote short. Helen remains the target and she knows it.
Do you think Aaryn made the right choice for the Veto renom? Which of these nominees would you like to see evicted next?
Jump on your Live Feeds now to watch the house react. Don't have the Feeds yet? Get your Free Trial right now and see what other fans are watching right now.