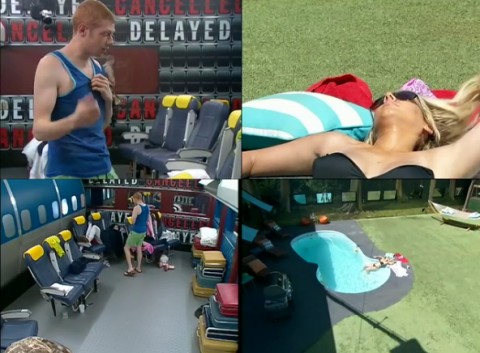 After a long night of talks on whether or not the Big Brother 15 house should be flipped on Amanda today, Aaryn made her replacement nominee when Elissa removed herself from the block. And even though she did not flip the house this week, there's been plenty of talk about doing it next week. And in an effort to not talk about how stupidly I think everyone is playing, I'll just stop my commentary right now and let you guys form your own judgments.
Read about those moments and others on our Live Feed highlights below. And remember to sign-up now for the Big Brother Feeds so you can watch any of these moments by using the Flashback archive feature.
Big Brother 15 Live Feed Highlights –  Monday, Aug. 19, 2013
8:17 AM BBT – Feeds cut. Wake-up time.

9:25 AM BBT – Helen telling Aaryn it's fine if she goes home. She's not going to let Amanda make her crazy.

9:30 AM BBT – Elissa and Aaryn are talking about Amanda. Aaryn thinks Helen could stay against Spencer  on the block but not against Amanda. Aaryn says Spencer said he wouldn't vote Amanda out. So now she thinks she does not have the numbers.

9:47 AM BBT – Aaryn now realizes that Helen doesn't have the votes to stay no matter who she puts up against her.

9:56 AM BBT – Helen tells Elissa that Amanda is going to try to get them on her side but she has to ignore them.

10:40 AM BBT – Elissa says she's going to put up McCrae and Amanda if she wins HOH and Helen tells her to not trust Andy. She calls him a rat.

10:47 AM BBT – Feeds cut for Veto ceremony.

11:18 AM BBT – Feeds return. Aaryn nominated Spencer in Elissa's place.

11:21 AM BBT – Elissa, in an interesting turn of events, is telling Aaryn they HAVE to work together next week.

11:22 AM BBT – Helen tells Andy that if she's evicted it's because of him. She tells him to show to America that he's a good person and no on the bad side of the house. Helen is crying to Andy and he keeps telling her he has her vote. He's lying.

11:33 AM BBT – Helen tells Andy to think about things. She says stick with the girls who have won 11 competitions and ditch McCranda who have only won one competition between them.

11:40 AM BBT – Helen, Aaryn and Elissa are comparing notes about McCrae and Amanda. Aaryn is tired of making all of their dirty moves. They're really throwing them under the bus. Andy is just taking it all in.

12:25 PM BBT – Andy is called to the DR and Elissa, Aaryn and GM all agree they need to watch what they say around Andy. No one trusts him anymore.

12:47 PM BBT – Andy is back and now it's just him, Aaryn and GM. He tells him that Amanda is more loyal than Helen and Elissa and that he trusts Amanda more than those two. He is working hard to get them back in board with voting out Helen.

1:10 PM BBT – Andy tells GM if they don't get Helen out she could win the game.

2:35 PM BBT – Amanda FINALLY wakes for the day again and Andy starts telling her about all the talk from the morning.

2:40 PM BBT – Houesguests put on outdoor lockdown.
So it sounds like Helen is toast because it seems at this point, she could only possibly get Elissa's and GinaMarie's votes to stay. I'm ready to get to Thursday to see what happens when one of the jury members compete to re-enter the house.
You can watch all of these Big Brother 15 events using the archives flashback, the DVR-like feature of this year's Live Feeds which means it's always live, even when you missed it! Sign-up now to get the free trial to watch it all live & uncensored.
click images to see full-size