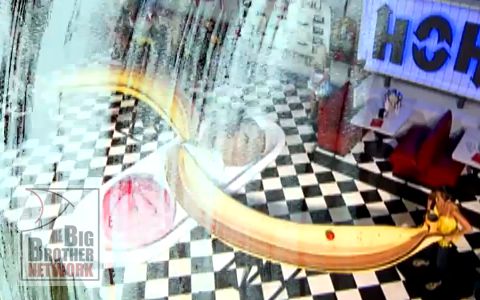 Typically viewers get to watch the Big Brother HoH competitions on either the live shows or the Live Feeds. Every once in awhile those competitions are held off live cameras as was the case this week when the Double Eviction episode ended without a new HoH.
Several hours after both Candice and Judd left the house and the live show ended the HGs were gathered in the backyard and competed for a chance to set this week's nominations and be free from the threat of eviction. Read the spoilers for who won!
Once the competition was over we heard lots of discussions from the HGs, but until now we weren't able to see just what they were doing in the comp. HGs described a knock-out style comp using balance boards like we saw the practice earlier in the week. Here's our first look at just what they were competing on.
click images to see full-size
From the pictures pulled from the next episode's preview we can see two HGs went at the same time in a tournament style bracket elimination. In the overhead view we can see Helen and Jessie facing off. There were three total rounds before the new HoH was crowned (spoilers) and we even heard McCrae knocked out Amanda.
Now we know why HGs were complaining about how much they dislike banana splits!