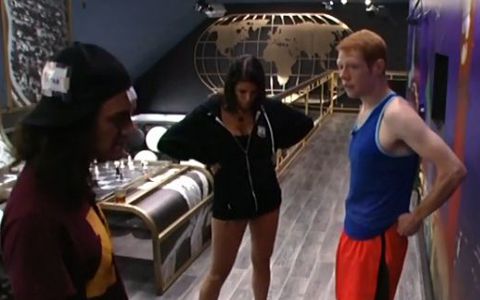 Ever since the MVP nomination was revealed on Saturday afternoon we've been enjoying some extreme campaigning in the form of hair-on-fire panicking courtesy of Amanda. We figured this was coming from the way our poll was heading with Amanda holding a healthy lead over second place, but the HGs were pretty surprised.
After calming down on Sunday, Amanda was right back at it this afternoon thanks to the Veto Ceremony reminding her of her new place in the house: in the middle of the danger-couch. When the meeting was over Amanda rushed around the house talking to everyone she could corner and for good reason. While she was in one room, Helen was in another with Spencer discussing a scenario where Amanda could be in a little trouble. Sign up now for the live feeds and Flashback to 10:56AM BBT on Monday.
In case you missed all the drama this weekend here are some of my favorite screen grabs from the Live Feeds when the fireworks were going off. Amanda was actually out of her bed, gasp, and pacing the house like a caged animal. It was a freak-out-a-rama and very entertaining even if she is safer than she thinks. Flashback to 12:26PM BBT on Saturday to watch the original drama unfold and the Amanda panic through the house.
click images to see full-size