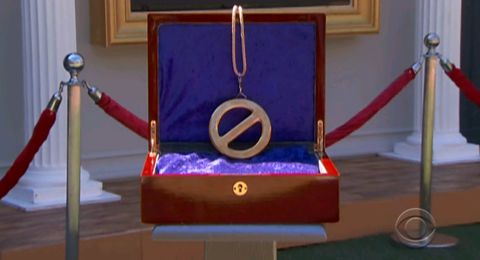 The latest Big Brother 15 Power of Veto ceremony has been held and the results are in on the Live Feeds. With three nominations this season there are even more combinations of what could go down during this ceremony Read on for the BB15 spoilers to find out if the Veto was used and who are the latest nominations.
With America voting as the MVP this week things were a little more up in the air leading to even more intense pressure in the house.
There was no surprise that Elissa, as this week's MVP nom & Veto winner, used the Veto to save herself from the chopping block and clear the path for a renom of America's choosing. The surprise was just which HG that would be and how the house would react.
As it turned out GinaMarie replaced Elissa on the block as the third nominee. Well that's a bummer. I mean I won't miss GM one bit, but she won't be a target and Amanda going up would have been far more entertaining for us.
As things now stand, GinaMarie is the MVP nom while Aaryn & Kaitlin remain as Judd's HoH noms. One of the three Mean Girls will be going home on Thursday. This will be the first evicted female HG of the season.
The HGs thought the renom would make it clear who was the MVP this week as they had not yet been told it was America voting for the third nominee. At this point they still don't know America voted GM in to being a nom, but they're still speculating about who is controlling that 3rd nom.
Later this week we'll see who heads out the door when this week's live eviction arrives on Thursday's BB15.
Jump on your Live Feeds now to watch the house react. Don't have the Feeds yet? Get your Free Trial right now and see what other fans are watching right now.