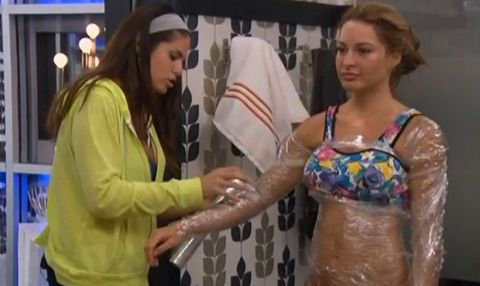 The Big Brother 15 Power of Veto ceremony will be held later today and for once we're as uncertain as the HGs as to what is going to happen. With the outcome in America's hands we're waiting to see who will go up on the block when America's MVP nominee comes down.
Read on for the rest of the spoilers and discussion on what's possibly going to happen.
What we know for sure is that Elissa, winner of this week's Power of Veto, will use the PoV to save herself. Since Elissa was the BBMVP nominee her replacement won't come from Judd, the current HoH. Instead, Elissa's replacement will be a result of the voting last week in CBS's poll. Elissa was likely the second, possibly the third, option in the results behind Aaryn. Now that she's off we'll get the next in line HG going down the list.
According to our poll, Elissa was fourth behind Aaryn, Amanda, and GinaMarie. Since things obviously didn't work out that way it's hard to have any great confidence in those numbers for who will be the replacement. I'd still guess we'll see either GM or Amanda going up on the block, but I'm not sure which to expect. We'd get way, way more drama and excitement out of Amanda going up on the block, but America's TV-only BB15 viewers, the bulk of the voters, might have a different perspective on who should be nominated than online readers who are more informed.
As for the HGs, they don't know what's going on. A lot of them think Elissa was the MVP and nominated herself to throw the other HGs off her trail. That's the stupidest strategy I've ever heard, but that's what they think. There's a whole stack of theories on "if HG X goes up then it means Y is the MVP" and they're all going to be wrong. A few times we've heard HGs guess that America voted, but then they're confused why they'd suddenly turn on Elissa after weeks of support.
If GinaMarie goes up then it'll be a quiet few days while the house waits to evict either Aaryn or Kaitlin. If Amanda goes up then all hell could break loose as she rampages around the house seeking out her predator. Of course she won't find us in there, but she doesn't know that which means someone (Elissa most likely) will take the blame.
What do you want to see happen today at the BB15 Veto ceremony? Would you rather see GinaMarie, Amanda, or some other HG up there in Elissa's spot?
We'll keep our eye on the Live Feeds and share the spoiler results when the Veto ceremony is over this afternoon. In the mean time, be sure to sign-up for the in-house Live Feeds and see what happens next.