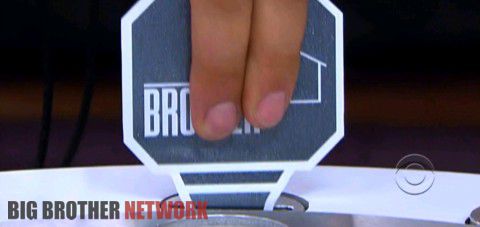 It's week four in Big Brother 15 and we've got your nomination spoilers thanks to the Live Feeds. The Feeds are on and we're able to listen in and see who has been nominated and who is going to compete for the Veto. This would be an ideal time to sign-up so you can try out the Feeds and see what other fans are watching everyday inside the house.
Things were all set this morning for the nominations, but then after today's Have-Not competition Judd was making some changes to that plan. It seemed like whoever would be the last HG in his ear would have the control.
Read on for the spoilers to find out who is on the block.
Big Brother 15 Week 4 Nominations:
At the start of the day Judd was set on nominating GinaMarie and Kaitlin. He had told Aaryn that he'd keep her safe and he had heard GM was naming him as her target. With that in mind his choice was easy.
Later that shifted after he talked more with GM and decided she was not coming after him. Judd then talked with Aaryn and prepared her for going up on the block, but promised she was a pawn and he'd have more control of her fate if she was one of his noms rather than what they anticipate to be Elissa's MVP nom. They don't know that's not happening like that this time around. Of course he also told Kaitlin that she's just going up as a pawn. So everyone is just a pawn? Careful, Judd.
We heard from Judd in another discussion that he thinks this mysterious twist will be a Coup D'Etat this week (it's not) which could explain why he's trying to so hard to be extra nice to the potential nominees.

The third nominee will be revealed tomorrow before the Veto competition. Remember that if America votes for one of the nominated HGs then it'll go to the next in line. Aaryn is obviously going to get the most votes to be nominated by America, but if she is up on the block by Judd's hands then that goes to whoever came in second (or third). We could get some very interesting results.
That Veto competition will be held very soon, likely on Saturday, so stay close and keep checking in for those spoilers. Join us on Facebook, Twitter, and get our free email updates to find out as soon as the Veto results are in.