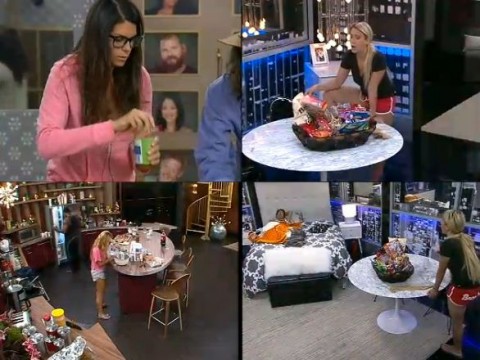 The day after the live eviction show offered a new run of drama and adventure. HGs were still up until 5AM as the sun was getting ready to come up. Once the day finally started things were slow until the Have-Not competition hit and stirred everyone to action.
Heading in to the Nomination Ceremony everyone was hitting up Judd for a quick talk and with each discussion his targets seemed to change. By the end of the night we had our nominees and were left wondering just what this would mean for the MVP nom.
Read about those moments and others on our Live Feeds highlights below. And remember that you can check out any of these moments by using the Live Feeds flashback/archive feature.
Big Brother 15 Live Feed Highlights – Friday, July 19/Saturday, July 20, 2013
5:00 AM BBT – Judd, McCrae, & Amanda are still up. Judd confirms his plans to nominate GM & Kaitlin. Judd heads off to sleep.

10:15 AM BBT – Early morning strategy talk with Judd, Elissa, & Jessie. Judd says he's "definitely" putting up GM & Kaitlin. Then he adds "90% sure."

11:00 AM BBT – Judd says to put all three girls on the block with Aaryn as the target and Kaitlin as the backup.

2:12 PM BBT – Live Feeds are back. The Mean Girls managed to avoid being Have-Nots again. GM is upset because no one wanted to be on their team. Helen got stuck with them. Andy, Spencer, Candice, & Jessie are the HN's this week.

2:15 PM BBT – Judd is upset that someone told Kaitlin she was going up with Aaryn.

2:25 PM BBT – Judd tells Kaitlin he's going to use her as a pawn.

2:40 PM BBT – Amanda wants Judd to put up Aaryn & Kaitlin instead. She still wants to backdoor Howard and keeps going on and on about it (like she has every day).

2:45 PM BBT – Judd tells GM she's going up as a pawn. She doesn't like it, but doesn't fight it. She says she was never really targeting him, which was why he wanted her up in the first place. Judd says maybe he won't put her up then and they can work together.

3:05 PM BBT – Judd now telling Aaryn that he might be putting her up. He says he'll have more control over her safety if he puts her up instead of waiting for a MVP nom. I don't follow this logic in the least.

3:15 PM BBT – Judd talks with Elissa, then a little later he talks with Andy. He's running the circuit talking with everyone about his plans. He's moving towards Kaitlin & Aaryn.

3:35 PM BBT – HGs discussing throwing up from their HN comp. They had to eat froyo in disgusting flavors.

4:00 PM BBT – Judd continues to hold conversations about noms and confirms to Jessie he's planning to put up Aaryn & Kaitlin.

4:40 PM BBT – Amanda is at it again. She's pushing Judd that he has to BD Howard. He appears to have no interest.

7:10 PM BBT – Feeds return from Nominations Ceremony. Aaryn & Kaitlin are on the block which means.

7:15 PM BBT – Aaryn sulking alone in back bedroom. Apparently Judd gave a "mean" speech even though both K & Aa knew they were going up.

8:10 PM BBT – Elissa is starting to get worried. She hasn't been called in for her weekly MVP award. She's asking others if they got it or speculating why some HGs are going in to DR so much or for so long.

9:10 PM BBT – Elissa talking with Amanda & Judd. She's still very nervous about why she hasn't heard on the MVP yet.

11:00 PM BBT – Aaryn & Jessie talking game and what Aaryn's options are for getting the votes to stay this week.

11:30 PM BBT – Elissa floats the idea of evicting all of the guys once Aaryn is gone.

11:50 PM BBT – Howard talks to McCrae about the MVP situation last week. Howard learns McC was just covering for Elissa and that he wasn't really the MVP.

1:00 AM BBT – Elissa still sweating the MVP since she still hasn't heard anything. She thinks Howard may have it.

1:30 AM BBT – Amanda tells Aaryn not to worry and that she wouldn't have been nominated up front if she was really the target. Amanda is either lying or thinks her BD-Howard plan is going to work.

2:00 AM BBT – Elissa says she was told in DR she didn't get the MVP. She speculates it could be America's vote this time around.

3:12 AM BBT – Judd gives us a shout-out along w/ Jokers & HW.

3:45 AM BBT – Kaitlin is upset with Aaryn for repeating things they discussed or making up things they haven't said. Aaryn was telling HGs that Kaitlin said Amanda would be the 3rd nom.

4:15 AM BBT – Kaitlin, Spencer, Howard, GM, & Judd in HoH room. Kaitlin calling for a new alliance including all of them to break away and turn on the rest of the house. She still wants Aaryn gone though.

4:45 AM BBT – Spencer and Howard alone with Judd. They're telling him Amanda & McCrae are talking trash about Judd behind his back. They want him to turn on them. Judd explains he put Amanda's key in the block last to make her sweat because he was "pissed" at her & the constant "backdoor Howard" talk.
So it looks like Judd disrupted America's vote by going ahead and putting Aaryn up on the block when we can easily assume that's where America was heading. Now that third nomination will go to the next in line (assuming it's not Kaitlin). According to our poll that would be Amanda. If she goes up on the block we could have a very interesting weekend on the Live Feeds!
You can watch all of these Big Brother 15 events using the archives flashback, the DVR-like feature of this year's Live Feeds which means it's always live, even when you missed it! Sign-up now to get the free trial to watch it all live & uncensored.
click images to see full-size