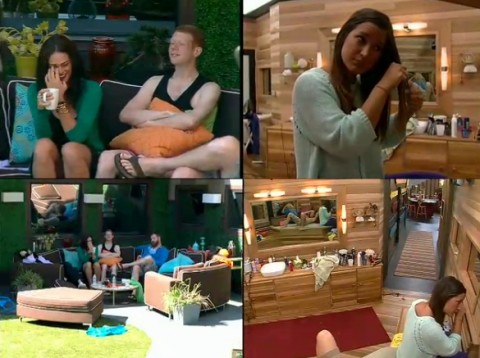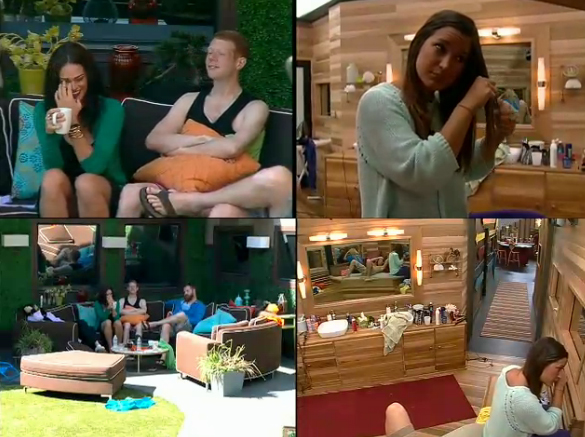 Despite the Veto Ceremony happening and Jeremy going up as a replacement nominee, the Big Brother 15 house has been mostly quiet for the day, save for a few spats and some light HousGuest bashing.
Read about all the moments from the house on our Live Feeds highlights below. And remember that you can check out any of these moments by using the Live Feeds flashback/archive feature.
Big Brother 15 Live Feed Highlights – Monday, July 15, 2013 
8:20 AM BBT – Early wake-up call. Must mean the Veto ceremony will happen early.

9:15 AM BBT – Racism discussion going on. I wish Aaryn and GM would just go so we can stop with all this.

9:45 AM BBT – Helen tells Kaitlin she owes her (if she uses the Veto) and will keep her safe as long as she can.

10:05 AM BBT – Feeds cut. Power of Veto Ceremony.

10:57 AM BBT – Feeds return and Helen is dancing. We can presume this means Kaitlin used the veto and Helen put Jeremy up in her place.

10:59 AM BBT – Jeremy and Kaitlin are talking about the POV. He tells her she's the one responsible for him going home.

11:10 AM BBT – Andy says that if Jeremy acted as civilized and level-headed as he is now when he came in the game, he could have won Big Brother.

11:15 AM BBT – Girls talking about the Moving Company. Candice finally knows she was right to suspect there was a guy's alliance.

11:22 AM BBT Jessie tells Helen she's worried about how everyone is being nice to Jeremy and thinks he's tricking them into keeping him. Helen assures her that won't happen.

11:50 AM BBT – Aaryn talks about possibly finding a dead body one time. Yeah, weird.

12:27 PM BBT – Andy tells Helen if they want to get rid of Howard next then Candice will have to be nominated too. They say Howard is a nice guy but they can't trust him and he has to go.

12:39 PM BBT – Amanda, Jeremy and Candice are having a spat about things Candice might have said about Amanda.

1:02 PM BBT – Helen tells Elissa that Aaryn says she won't target them. Helen has this ridiculous "deal" with Aaryn that I don't quite understand.

1:28 PM BBT – Kaitlin has been talking about how much she hates Candice and she is making it her goal to get her evicted next week.

2:28 PM BBT – Amanda, McCrae, Judd and Andy name their alliance The Goof Troup.

2:55 PM BBT – Indoor lockdown. Not sure why.
So Jeremy is surprising everyone with his positive attitude and even has a few people thinking that if this version of Jeremy had been playing the game since Day One, he wouldn't be where he is right now. Will "New" Jeremy be able to get people to change their minds about voting him out? Doubtful, but anything is possible.
You can watch all of these Big Brother 15 events using the archives flashback, the DVR-like feature of this year's Live Feeds which means it's always live, even when you missed it! Sign-up now to get the free trial to watch it all live & uncensored.