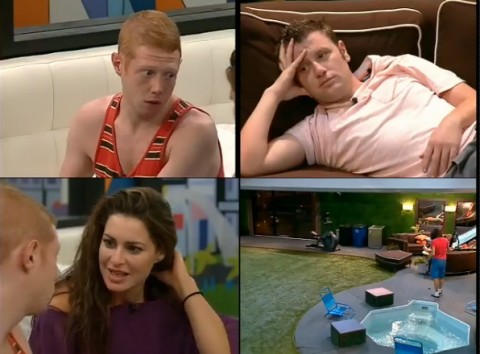 Big Brother 15 is starting to wind down and the Live Feeds are reflecting that. This week Amanda is almost certainly going home and even though she's still doing some light campaigning, she's basically accepted her fate. Everyone else in the house is looking ahead and deciding who they're going to stab in the back and at what points.
Read about those moments and others on our Live Feed highlights below. And remember to sign-up now for the Big Brother Feeds so you can watch any of these moments by using the Flashback archive feature.
Big Brother 15 Live Feed Highlights –  Monday, Sept. 2, 2013
8:22 AM BBT – Feeds cut. Wake-up time.

9:15 AM BBT – Most houseguests are up getting dressed.

10:08 AM BBT – Judd and GinaMarie are saying Amanda and McCrae have had sex all over the house. They also talk about Amanda's plan to steal Nick's hat from GM and take it with her when she's evicted Thursday.

10:13 AM BBT – Feeds cut to trivia for Veto ceremony.

10:58 AM BBT – Feeds return. McCrae and Amanda are back in bed. No one is talking about the ceremony. Elissa is whispering something to Spencer.

11:00 AM BBT – McCrae is telling Amanda he's sorry. She tells him his veto speech sucked. She says even Elissa told Helen she wishes she could use the veto on her. Apparently McCrae didn't tell Amanda he wishes he could use the veto on her.

11:01 AM BBT – Spencer is nominated.

11:09 AM BBT – Spencer, Andy and Judd are talking about next week. Andy says he doesn't know if he'd rather target McCrae or Elissa next. Judd is like why is there even a question? It should be McCrae, he says. Andy is paranoid about Elissa though. Andy says they're equally dangerous.

11:27 AM BBT – Elissa and GinaMarie are discussing Amanda. GM says Amanda needs locked up because she's psycho.

12:12 PM BBT – Most houseguests are sleeping.

3:30 PM BBT – Some of the HGs are cleaning and doing dishes. Not much else is going on.

3:50 PM BBT – Spencer and Andy are being horrible alliance members and talking about when they want to get Judd out. They don't understand why he wants McCrae out before Elissa. Yet they decide if Elissa and Judd are on the block together coming up, they vote out Judd. I wish I understood these people and what they think this season.

4:08 PM BBT – Amanda talking about the stuff she has to deal with when she gets home.

4:58 PM BBT – GM, Spencer, Judd and Andy agree that McCrae will watch the show and hate himself for the way he let Amanda run his game.

6:15 PM BBT – Elissa has made chicken and dumplings. The HGs are eating dinner.

6:30 PM BBT – Amanda thinks this season is too long.

7:37 PM BBT – Amanda is crying to McCrae. She knows her game is coming to an end.

7:54 PM BBT – Judd is trying to cover his bases, so he asks McCrae if he wants to work with him when Amanda goes.

8:45 PM BBT – Elissa tells McCrae she thinks he'd win in the final 2. She says she doesn't think anyone would vote for her.

9:30 PM BBT – Amanda gets upset with McCrae because he's planning his game after she leaves. She reminds him that she's still here then gets mad and says "why don't I just leave?" She goes on to say that she fought for so many people to stay and now that it's her no one is fighting for her to stay.

10:30 PM BBT – Amanda is campaigning to Elissa. Promises her everything if she votes to keep her. She tells her she could even blame the vote on Judd.

10:40 PM BBT – Andy pops in and Amanda leaves. Elissa tells Andy what Amanda said, including saying Andy's target was Elissa. Andy denies it.

11:00 PM BBT – Andy and Spencer talk to McCrae about next targets. McCrae wants Elissa out. Andy and Spencer suggest Judd as the best option up against her.

11:45 PM BBT – McCrae discusses his next week plans with Amanda. He thinks he can still work with Andy. She suggests targeting Judd and Spencer, but he wants to go after Elissa.

12:39 AM BBT – Elissa pulls Amanda in to the Lounge and says she wants to vote her to stay. Amanda: "Come on." Andy pops in and they tell him the plan.

12:50 AM BBT – Elissa pulls Andy aside and reiterates that she wants to save Amanda. She says she does not trust Spencer and wants him gone. Andy says he's with her for whatever she wants to do.

1:20 AM BBT – Amanda and Elissa talking in the back bedroom about working to keep Amanda.

1:45 AM BBT – Andy heads upstairs to tell GM about Elissa's plan. Sounds like Andy is not on board to keep Amanda but lets her know this could come down to a tie if Elissa votes with McCrae. Andy's plan is to frame Elissa for the vote to evict Amanda while it'll really be his that leads to the tie.

2:05 AM BBT – Spencer, aware of Elissa's plan, confirms with the Exterminators that he's safe. They assure him he will be safe.

2:40 AM BBT – Exterminators discussing the situation. Spencer wants to get Elissa out.

2:50 AM BBT – Andy says he'd also target Elissa next now that GM told him Elissa wanted to target Andy.

3:15 AM BBT – Exterminators bashing Elissa. GM takes a swing at Elissa's son. Judd tells her not to do that.

4:00 AM BBT – Exterminators continuing their very late night backyard talk.
So Amanda is still trying to get creative and figure out a way to save herself this week. Elissa's turn to wanting to keep Amanda is strange, but it won't work and Amanda may figure that out before it comes to a tie-breaker on Thursday night.
You can watch all of these Big Brother 15 events using the archives flashback, the DVR-like feature of this year's Live Feeds which means it's always live, even when you missed it! Sign-up now to get the free trial to watch it all live & uncensored.
click images to see full-size