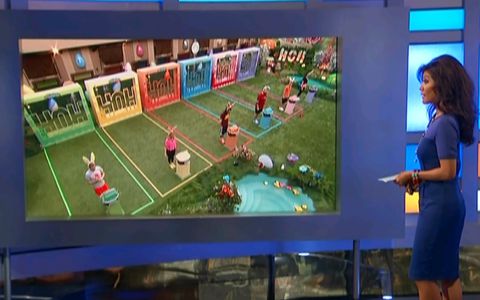 Another endurance comp?! Well, it's more of a mini-endurance comp as six HGs must race to be the first to get a dozen eggs through the maze behind chicken wire mesh. The last place HG will have to wear a chicken suit for a few days.
Are you ready to find out who won tonight's competition? It was a critical battle to decide if McCranda or Elissa would end up this week's target. Read on for the spoilers!
Big Brother 15 Week 10 HoH Endurance Comp Results:
6:55PM BBT – As the show ended, GM & Andy led with 2 eggs each.
7:00PM BBT – Waiting for the Feeds to return.
7:05PM BBT – Still waiting. Feeds back soon.
7:35PM BBT – Feeds are back. GineMarie won!
Click Here to Get the Big Brother Live Feed Free Trial
Congratulations to GinaMarie! She is the new Head of Household! Poor Judd & Spencer. They came in last place and will have to wear a chicken suit for two days.
GinaMarie told Judd she will nominate McCranda. I believe her. In the meantime, Amanda is all over GinaMarie. She's following GM around and staying close by.
When McCranda gets nominated Friday night the house is going to be flipped upside down. Possibly literally. You do not want to miss what's coming up next so get your Live Feeds Free Trial right now and be ready to watch inside the house uncensored. It's going to be exciting!
What do you think of tonight's Big Brother 15 HoH results?