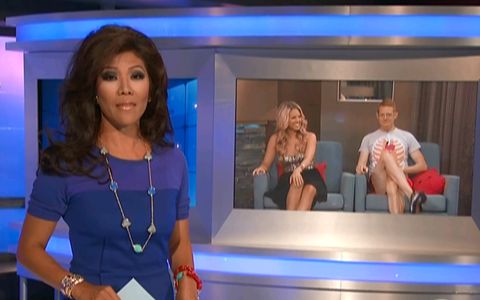 After weeks and weeks of America wondering what Julie Chen would say to Aaryn following her Big Brother 15 eviction, we finally found out Thursday night. And it was probably Julie's toughest eviction interview to date. But she handled it very well.
The episode picks up right after Elissa named Andy as the replacement nominee. Aaryn reminds us that she and Andy being on the block together means the 3 AM alliance is over. But Andy isn't worried. His newest plan does not include Amanda and McCrae.
Amanda continues her Elissa rampage and in turn continues making everyone uncomfortable. She basically insists that Andy stop talking to Elissa even though he's on the block and needs to keep himself safe.
So thanks to all of Amanda's shenanigans, Spencer, Judd, GinaMarie and Andy decide to team up and get McCrae and Amanda out. And it's not just a random thought. It's an actual alliance. The settle on The Exterminators as a name.
But those guys aren't the only ones tired of Amanda. Aaryn is also really angry and sad that she did all of Amanda's dirty work and she won't be voting for her to stay. Amanda does tell her she tried everything she could to keep Andy off the block, but it didn't work. For the first time this season, Amanda did not have some kind of control of the nominations and eviction.
Aaryn keeps up her campaign to stay, but it's not working. Aaryn has too much blood on her hands and has won so many competitions that she's made herself a huge threat and these people aren't going to ignore a chance to get her out.
Filler alert: Julie checks in with Dan Gheesling and what he thinks of this season. We find out that he's Team Judd and that Amanda is playing the game like a brat.
And Dan's not all we get. We also got to see what Brencehl, JeJo and Dani and Dom think about the showmance of the season. And they're very diplomatic. But it was nice to see those familiar faces.
It's final plea time. Aaryn gives a typical canned speech. Andy gives a really stupid speech that I couldn't even keep track of.
The Votes
Judd votes to evict Aaryn.
Spencer votes to evict Aaryn.
GinaMarie votes to evict Aaryn.
Amanda votes to evict Aaryn.
McCrae votes to evict Aaryn.
By a vote of 5-0, Aaryn is evicted from the Big Brother house.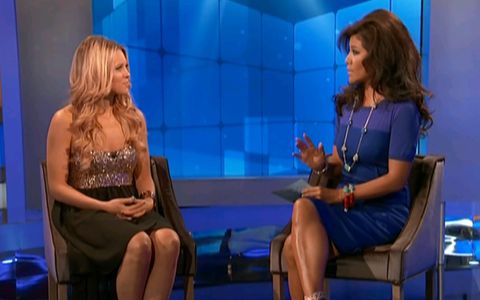 And it's the interview we've all be waiting for all summer. Julie sits down and talks to Aaryn about her game. But first, she got some audience boos when she walked out the audience. She again blamed her racism on being southern. And Julie doesn't leave anything untouched. She even reads back some of the things she said in the house, including her comments about rice, not being able to see Candice in the dark and calling Andy a "queer." Aaryn seemed floored and even acted like she did not remember saying those things.
Julie closed the interview by telling Aaryn she will surely watch the show back and have a new perspective on things.
With little time left, the HOH contest starts and it's a skill/race game with the egg through the chicken wire. But the show ends before we find out what happens. If you can't wait for Sunday, check out who won HoH tonight on Big Brother.