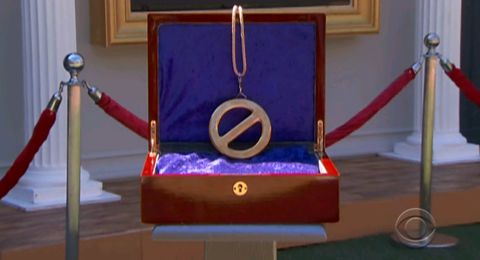 The very first Big Brother 15 Power of Veto ceremony has been held and the results are in on the Live Feeds. With three nominations this season there are even more combinations of what could go down during this ceremony Read on to find out if the Veto was used and who are the latest nominations.
Just as we expected, McCrae used the Veto. He saved Candice and removed her from the chopping block. Since McCrae is also this week's HoH he had to name a replacement nominee. Elissa was named as the renom.
Everything went just as we described earlier. The plan has been for awhile now that McCrae would have to renom Elissa to hide his agreement with her. It's a risky move for Elissa as nearly half the house wants her gone, but lucky for her, the other half wants David gone.
Since David, the MVP's nomination, was not removed there won't be an MVP renom. That'll be interesting to see play out if/when it happens later on BB15
Later this week we'll see which side wins, but right now it does look like David is in serious danger. He does suspect it a little, but not to the level that he should.
Jump on your Live Feeds now to watch the house react. Don't have the Feeds yet? Get your Free Trial right now and see what other fans are watching right now.