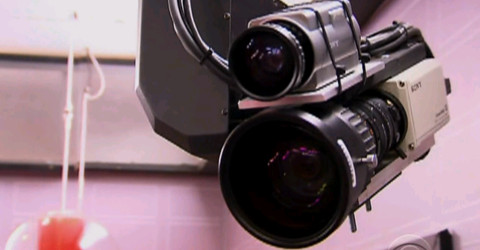 It was Veto ceremony day in the Big Brother house which lead to some unsurprising results. The house is divided, only half of them seem to realize that, making the Veto results convincing to just a few HGs. The real surprise will come later this week, if things don't change that is.
Later David managed to fully flash the camera and Aaryn & GinaMarie played the bigotry card. Yep, the list of undesirables in the house continues to grow.
Remember that you can check out any of these moments by using the Live Feeds flashback/archive feature.
Big Brother 15 Live Feed Highlights – Saturday, June 29, 2013:
8:30AM BBT – Elissa & Helen talking in HN room. Helen trying to encourage Elissa that she'll get through this week.

11:35AM BBT – Jeremy shares a little insight to his life. "When I was 18 I slept with a 48 year old." He also tells the HGs that he slept with one of his friend's moms before he came on the show. Thanks for sharing, Jeremy!

11:45AM BBT – Amanda tried talking to Elissa about using her MVP powers to target players. Elissa isn't in to the conversation and wanders off leaving Amanda frustrated. Amanda expects Elissa to win MVP every week and wants to harness that power for her own.

12:10PM BBT – David makes a big mistake. He rubs sunscreen on Jessie's back. Big mistake.

12:30PM BBT – Jessie is profusely apologizing to a furious Aaryn over the sunscreen incident. She promises it won't happen again. Aaryn says she's more upset at David because friends just go "wipe, wipe, wipe" when applying sunscreen, but he "spent like 30 seconds" doing it. Can't make this stuff up.

1:30PM BBT – Veto ceremony is over. Candice was saved. Elissa was renom'd. David secretly remains the target. Or maybe not.

2:21PM BBT – David decides to go full-frontal. He drops his shorts, starts to cover himself up, then just gets changed instead. If you'd like to see his little dude, check it out, brah. Free Trial.

3:35PM BBT – Amanda offers up a Final Four deal of McCrae, Andy, and Spencer.

3:45PM BBT – Elissa confirms to Andy that she is MVP and Rachel's sister.

6:15PM BBT – GinaMarie getting excited over the prospect of Nick liking her. He doesn't.

8:00PM BBT – Elissa & Amanda having a heart-to-heart. Amanda is upset over McCrae telling her other HGs are out to get her. Psst, Amanda, all HGs are out to get all other HGs.

9:05PM BBT – McCrae, Andy, Amanda, & Judd are suspicious of Nick on many fronts. They think something is going on with him from too many DR sessions and they question his sexuality for the way he responds to the girls.

10:50PM BBT – Nick & GM talking game. GM is convinced only 10 HGs vote this week. Nick tries to explain 16-4 to her. GM still expecting Elissa to be evicted this week.

11:45PM BBT – McCrae & Jeremy have a quick meeting in the storage room to make sure Moving Company is still on track.

12:40AM BBT – Candice tries to squash a rumor that she bent Aaryn's hat. Aaryn isn't having any of it and acts like a brat in response.

1:11AM BBT – Cams flip back to Amanda & McCrae for a little post-sex pillow talk. Yep. That just happened.

1:15AM BBT – Aaryn, GinaMarie, & Kaitlin hold a Candice-bash session. They think everyone is fighting with Candice and Jessie would be better to get rid of first. Aaryn says they have the numbers and suggests Kaitlin is "retarded" for questioning that. Oh, it gets better. They're discussing Howard & Candice sticking together based on skin color. We're not done yet either. In regards to Helen, Aaryn says "shut up and go make some rice." Yep, what a little sweetheart, huh? Not to be outdone, GinaMarie follows Aaryn's comment with a suggestion for how to make Helen's eyes straight. Something about hitting her (couldn't hear that one part too well). Kaitlin says "that's rude." GinaMarie corrects her saying "that's funny."

2:15AM BBT – Jeremy tells Kaitlin about keeping Elissa. Could Jessie go instead? We'll see.
The house was all over the place today. Maybe David will be safe and Jessie goes instead. If the vote were held now it's safe to say Elissa would remain in the game. No matter what's going on now, we've still got a long way to go until Wednesday's vote.
Check Zap2It's overview for all the horrible things being said in the house from Jeremy, Spencer, GinaMarie, Kaitlin, and Aaryn.
You can watch all of these Big Brother 15 events using the archives flashback, the DVR-like feature of this year's Live Feeds which means it's always live, even when you missed it! Sign-up now to get the free trial to watch it all live & uncensored!
click images to see full-size