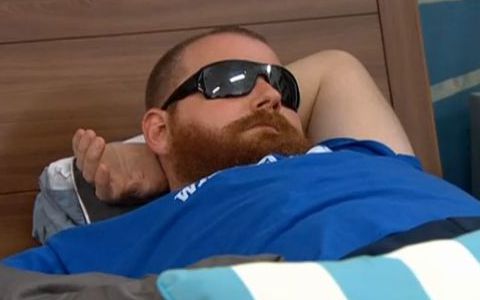 The "Big Brother 15" houseguests face an important decision on Thursday. They have the opportunity to break up one of two showmances, but only one of them is a true powerhouse in the game right now. Spencer is using his new found safety to work the house in hopes of securing his ally's spot in the game for at least another week, but he's got an uphill battle and running out of time to do it.
We've seen a lot of action on the Live Feed from inside the house and things are moving quickly this week. Sign-up now for the live feeds and watch it all for yourself.
Read on for spoiler discussion about the upcoming BB15 eviction.
Ever since Amanda was nominated by America's MVP Vote on Saturday she has been in a panic while other HGs have tried to calm her fears. For the most part I'd say they're right that she's safe, but there have been recent cracks in that armor that are making her vulnerable. Just how vulnerable she becomes between now and Thursday night is the question.
On Monday afternoon when the Feeds returned from the Veto Ceremony we found Helen and Spencer talking in the Lounge (Flashback 10:57AM BBT). Spencer was pushing to keep Howard safe and seemed to miss an obvious opening from Helen that "if she was the 5th vote…" openly hinting about a consideration of evicting Amanda. Oblivous, Spencer continued on saying he'd rather lose Candice than Howard. Yes, Spencer, but would you rather get rid of Amanda or lose Candice? Sheesh.
Around 5:50PM BBT on Monday, Spencer has Judd alone in the backyard and is talking votes for the eviction. Judd doesn't seem too interested, but Spencer keeps going over their chance to flip the house. Later, around 7:15PM BBT, Spencer talks with Andy about the same plan. Andy gives plenty of smiles and nods, but I doubt he's seriously considering the idea.
Shortly after Spencer spoke with Andy we find Andy comparing notes with Judd about what Spencer has been proposing. There is no mention of considering what Spencer is offering which does not bode well for Howard. If there had been some mention of "maybe we should think about it" sort of response then this whole house-flip idea would be more likely.
Much later in the night GM tells Aaryn she'd be on board with evicting Amanda, but she doesn't know that Aaryn is now much closer with McCranda.
As it stands, with Candice on the block and out of the voting lineup, Spencer has just his vote to start with. He'll need five total to skip over Aaryn's potential for a tie-breaker. GinaMarie could possibly be on board to evict Amanda. Judd is a possibility, but still a tough sell. If Spencer can get Judd then he could probably get Jessie by extension. That would put him at four, one short of a guaranteed eviction for Amanda. Now who could be the fifth? That's right, Helen.
Now Helen has flirted with betraying just about every alliance she has (and she even already did with Kaitlin), so it's hard to be sure how serious she was in that moment. But Spencer has nothing to lose and he should work hard on this over the next two days.
Spencer's biggest obstacle is knowing who to talk to. Pursuing Andy's vote is a waste of time, but Andy hides that well and could become a tar-baby situation if Spencer keeps sinking time in to that well. He needs to forget Andy and go after Judd, Jessie, GM, and Helen.
If the Big Brother 15 HGs don't take this opportunity then they're all hurting their chances to win. Do any of them possibly think if they're sitting next to either McCrae or Amanda in the Final Two that they could get the other to vote for them over their showmance? It wouldn't happen. Each HG would be starting off at -1 votes with that scenario. Horrible planning.
Let's see if they see the light before Thursday night.