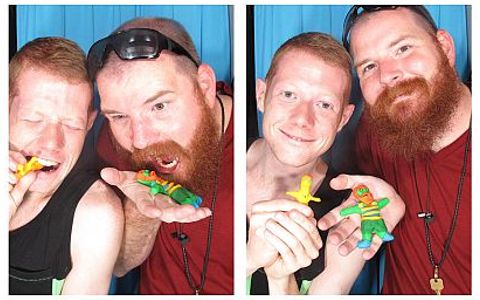 The second round of the final HoH competition is nearly upon us. Typically part 2 of the three-parter is held on Saturdays and features a physical skill comp. The winner of this round will earn a seat in the third round and face the first round's winner.
If you're waiting until the next episode to learn how round 1 went then turn away now. Otherwise let's carry on for a little speculation.
GinaMarie has locked in her place for Round 3 which means Andy and Spencer will face off later today. Neither player could really be considered a competition king, though both have won comps and had their moments. Andy has 2 HoHs and 2 Vetoes to Spencer's 1 HoH and 1 Veto so there's a slight edge to Andy but nothing dramatic.
I would expect this challenge to introduce a physical element while requiring a strong knowledge of events in the season. Andy has the lead here. He knows his dates, events orders, and general season trivia. If it was a straight up knowledge challenge then I'd be calling it for Andy now, but the physical element keeps this one up for grabs.
While we've seen cases of HGs throwing a final HoH comp because of their confidence on being dragged to the finish line, I do not see that to be the case here. Both Andy and Spencer will want and need this win for a guaranteed chance at the Final Two.
Last year the second round's results weren't revealed until well in to the night on the final Saturday so it's difficult to predict when we'll hear an update on this. Of course we'll be watching the Feeds around the clock to make sure we know when it starts and will be ready to report back as soon as we hear the results.
Which HG do you want to win Round 2? Andy or Spencer? Why?
If you join us on Facebook, Twitter, or by Email then we'll let you know when the Round 2 of Big Brother 15's Final HoH is complete.