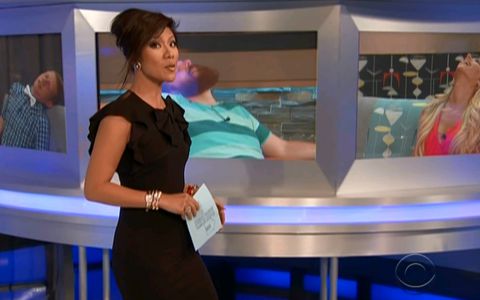 We're about to find out who won Big Brother 15 as the Jury is nearly set and will soon cast their votes. Before we get to the voting we'll have to wait through the final Head of Household competition. Two of the three portions have already played out so we'll be watching just the third part live before moving on to the jury and votes.
While we wait I wanted to give a BIG thanks to all of our readers this summer. Thanks for joining us each day to discuss what was going on in the house and a special thanks to everyone who signed up for the Live Feeds through our links and banners. All of you make this site possible and it'd be nothing without you. Okay, now on to the winner.
Big Brother 15 – Final HoH Round 1:
Round 1 is an endurance comp: Big Brother Roller Disco
Spencer drops quickly after flailing around
Andy starts to have trouble and falls
click images to see full-size view
Big Brother 15 – Final HoH Round 2:
Andy and Spencer are left to face off in Round 2
HGs have to correctly order the season's evictions while wall climbing
click images to see full-size view
Now it's time for the Jury House debate. Dr. Will shows up and leads the discussion. It's pretty entertaining. Will gets in a few zings including asking Candice if Aaryn helped her make her bed in Jury House.
Sounds like a lot of support going for GM here, well Amanda doesn't like her, but most of the rest do. When it comes to "why should Andy win?" we hear crickets. Uh oh, Andy.
Big Brother 15 – Final HoH Round 3:
Round 1 – Candice: Both get it right
Round 2 – Jessie: Both get it wrong
Round 3 – Helen: Andy gets it right
Round 4 – Aaryn: Both get it right
Round 5 – Amanda: Andy gets it right
Round 6 – Elissa: GinaMarie gets it right
Round 7 – Judd: Both get it wrong
Round 8 – McCrae: Both get it right
Andy wins the Final Head of Household! He'll cast the final eviction vote.
click images to see full-size view
Well, folks, I called it earlier. Now if he is smart he'll take Spencer and win $500K. If not, GinaMarie could take home the prize.
Big Brother 15 – Final Eviction:
Andy votes to evict… Spencer!
Whoa, whoa, whoa! That was dumb, dumb, dumb! Will Andy lose? He just might and it'll be all his fault. Oh my goodness. Andy might still win, but he took a much tougher path.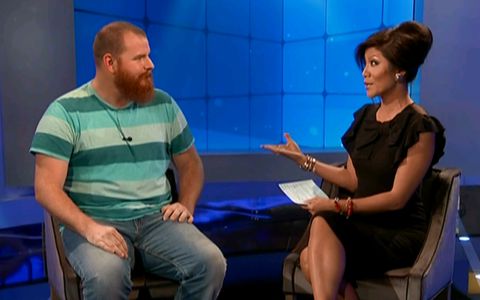 The Jury interrogation is going very, very well for Andy. He just might pull this off after all. He's nailing his answers while GinaMarie is flopping around. She might have lost this in the final stretch. Yeah, I think Andy will be just fine. Earlier today I thought he'd win either way, but after that first Jury discussion at the House I completely changed my mind on that. Nice misdirection, CBS!
The voting is now complete, but we get to hear from the first five evicted HGs. From the sound of it Aaryn voted for GM, but the rest likely voted for Andy. Every speaking part went his way tonight while GM completely bumbled her opportunities. Andy should have this locked down.
Big Brother 15 – Jury Votes:
Spencer: Andy
McCrae: Andy
Aaryn: GinaMarie
Judd: GinaMarie
Amanda: Andy
Elissa: Andy
Helen: Andy
Jessie: Andy
Candice: Andy
click images to see full-size view
Big Brother 15 – Results:
Congratulations to Andy on his big win. I know he wasn't terribly popular, but he did play a very smart and hard game. He deserved this win over GM.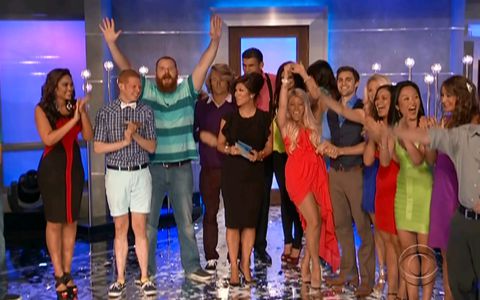 Big Brother 15 – America's Vote:
Top 3 vote-getters: Elissa, Judd, & Howard
Elissa wins America's Fav!
Watch the Backyard Interviews with "Big Jeff" starting at 11:15PM 11:45PM ET for free here at CBS.com.
Thanks again for joining us this summer. Now get ready for Big Brother 16! CBS has confirmed the series will return in 2014 for another run. Join us on Facebook, Twitter, and by email to receive casting and season updates. We'll see you again soon.