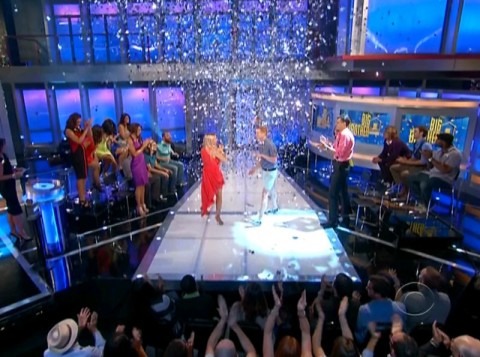 Big Brother 15 came to a dramatic conclusion Wednesday night as Andy Herren made history as the first openly-gay winner.
Also in the night, the jury members learned that the show was one of the most controversial in the history and that their antics made national headlines. Of course we were all left wanting more of that, but there was too much other show to get to.
The episode picked up with Part One of the final Head of Household in progress. And out course Spencer is the first one out. GinaMarie and Andy go at it for a while and then things get really slippery and Andy falls. GinaMarie wins part one. She moves on to part three.
It's time for Spencer and Andy to face-off for Part Two of the final Head of Household. And it's a rock wall-skill-luck-speed mash-up challenge. And to basically no one's surprise, Spencer sucks at the game, so Andy wins. So it's GinaMarie vs. Spencer in part three.
And so it's time for Andy and GinaMarie to figure out who they're going to take to the finals and how to get the other person to take them to the finals. GinaMarie doesn't think she could beat Andy in jury votes. But she thinks Andy deserves it more than Spencer.
Let's cut to the jury house so Dr. WIll can "grill" the jury members. And by grill, we mean letting the jury members continue talking about the same things they've talked about all season. It was actually quite disappointing. But that's the theme of the season.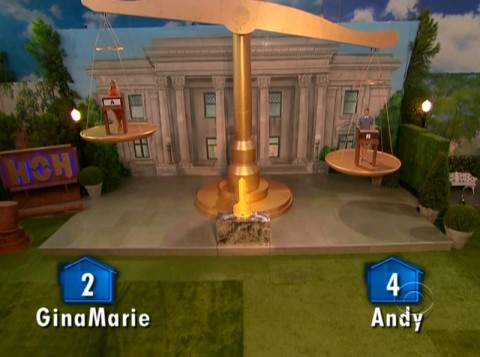 It's time for the final HOH. Here's how that played out.
Question 1: GinaMarie and Andy both get a point.
Question 2: Both miss it.
Question 3: Andy gets a point. GM doesn't.
Question 4: Both get a point.
Question 5: Andy gets a point. GM doesn't.
Question 6: GM gets a point. Andy doesn't.
Question 7: Both miss it.
Question 8: Both get it right and Andy wins.
Andy now has to make his decision to evict either GinaMarie or Spencer. And he picks Spencer. Wow. Wow. Wow. I don't know if I can even go on. Andy just handed GinaMarie the win. Spencer tells Julie that he kind of knew it was coming.
Julie brings out the jury to find the last person evicted and to ask the finalists questions. So let's get to it.
Amanda: GM, what's your biggest move prior to getting me out. And her answer: "Getting Amanda out." Hahahaha.
Elissa to Andy: Biggest game move. His answer: aligning with McCrae and Amanda and playing all sides of the house.
Helen to GM: Biggest obstacle? Losing Nick. No, really.
McCrae to Andy: Why should the jury not be bitter? Andy says because he played the game that deserves to win.
Candice to GM: "Why should we give you the money?" All she can talk about is Nick. Still.
Jessie to Andy: "Why did you lie to so many jurors unnecessarily? "He said it would have broken his heart to be honest to them.
Spencer to Andy: "You cost me a lot of money. Why should I give you half a million dollars?" He says he promised GM on night one he'd have her back from night one all the way through the game. He said he kept his loyalty to her to prove to the jury that he could remain loyal to someone.
Andy definitely wins that round if you're playing fair. I venture to say his are the best final two answers ever.
As for final pleas, GM's made me want to burst my own eardrums. Andy's was respectable, articulate and well-thought. Andy should win. And the jurors make their votes.
The pre-jury houseguests come back for some fun! And by fun I mean uncomfortable and icky stuff. ACK. And the best part was Amanda finally learning that America was MVP. The rest of it was actually pretty disappointing.
It's time to learn the winner of Big Brother 15.
The Votes
Spencer voted for Andy.
McCrae voted for Andy.
Judd voted for GinaMarie.
Elissa voted for Andy.
Amanda voted for Andy.
Aaryn voted for GinaMarie.
Helen voted for Andy.
Andy wins Big Brother 15. And the $500,000. GinaMarie finishes as runner-up and takes home $50,000.
The other votes:
Jessie voted for Andy.
Candice voted for Andy.
And just before the credits roll, Julie let's us know how America's vote played out. The  Top 3 Favorite Houseguests: Elissa, Judd and Howard. Julie announces that Elissa wins the $25,000.