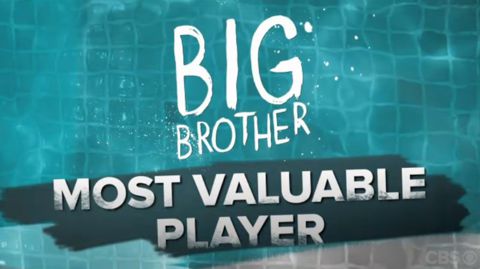 Big Brother 15 has brought the BBMVP twist to an end. America will no longer be voting for a MVP HG or the 3rd nominee nor will there be a 3rd nominee at all. The MVP twist is done and gone.
Julie made the announcement to HGs last night as part of the live double eviction show. Readers here were alerted to the upcoming change earlier in the day after Julie Chen tweeted a message showing the return of last season's "Reset" button.
HGs were relieved to see it go, but the paranoia outlasted the twist as they still speculated over who was the mysterious MVP. Several HGs, including Amanda, remain convinced it was Judd which was a major driver in his blindside eviction last night.
Ultimately the MVP Twist was a bit of a flop in its execution though it still managed to stir up the game. For all those who prefer to believe Big Brother is scripted must be overlooking the way these carefully crafted twists rarely go the way production intended.
After three straight weeks of seeing Elissa crowned MVP by the viewers the rules were changed to allow viewers to directly nominate the third HG instead. We were finally getting the drama we wanted as Amanda consistently flipped out over her nomination while refusing to believe it could have been America at the helm of that decision. But the fears of an in-house MVP persisted and created even more drama on top of it.
A few simple rules could have better protected the twist from the start had production paused to consider the possibilities. First, no HG should have been eligible for the MVP role two weeks in a role. That would have at least kept the power shifting each week.
Second, HGs should have been banned from revealing their MVP status. This has been done in the past with special powers and could have worked again with the fear of losing the ability to pick a nominee. How hard would those two little rules have been?
Ah well, it was a fun ride while it was lasted. Mostly. What did you think of the MVP twist? Did it add to the game or take away from it for you? And are you glad to see it gone?