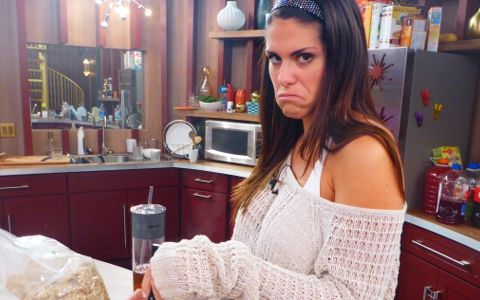 Thursday's HoH competition held a lot in its balance. On one side you had Elissa, in the middle there were The Exterminators, and on the other side you'll find McCranda. Unfortunately for McCranda they don't quite yet realize the house is against them.
Now that we have the Head of Household comp results from after the live eviction show we can confidently predict who will be going up on the block. Read on for the spoilers.
GinaMarie is the new HoH and as a member of the newly formed Exterminators alliance along with Andy, Judd, and Spencer we know where she's setting her sights.
Shortly after the Feeds returned on Thursday night we heard GM promise Judd she was sticking to the plan and will be nominating Amanda and McCrae. Soon after that we saw GinaMarie, Spencer, and Judd secretly celebrating in the Storage room.
Amanda expressed her plan to stick to GinaMarie and be in her ear until the nominations were finalized. She even pulled GinaMarie in to the back bedroom and offered a final four deal with Andy and McCranda. Amanda doesn't realize that Andy already has a final four deal of his own with GinaMarie. Instead she pushed GinaMarie to nominate Judd and Elissa while even offering herself as a renom volunteer. GM gave her a lot of "ahum, ahum, ahum" in response.
By the end of the night we learned that McCranda fully anticipate Elissa and Spencer to go up on the block. They have no idea what's about to happen and when it does, oh boy oh boy, this house is going to be on fire.
Unless GinaMarie gets browbeat by Amanda to change her plans we can expect to see McCranda up on the block together. One of them should go home unless something crazy happens. And if Amanda wins the Veto and GM's only renom option is Elissa then the Exterminator guys could possibly decide they like McCrae better and keep him.
It could happen, but it's another long shot and honestly I do not see that happening. In fact, Judd and GinaMarie both want McCrae gone this week over Amanda. We'll have to wait and see who makes up the final nominations before we can predict the eviction.
Who do you want to see up on the block? The official results will be revealed on Friday night so keep your Live Feeds running and see what happens next!