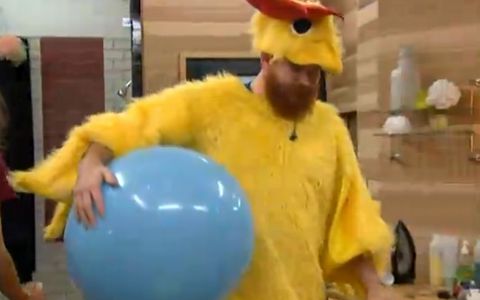 Julie Chen promised us we'd see a mysterious competition on Sunday's Big Brother 15 and sure enough the HGs were surprised by a luxury comp earlier today.
The Live Feeds went to Trivia when the HGs were still slowly waking up and when they returned the house was a disaster zone. Confetti and popped balloons littered the house as HGs swept the floors and talked about what just went down.
It turns out that Spencer was the big winner and earned a $10,000 prize! Combine that with his Bahamas trip and his stipend even if he wins nothing else and he'll have done pretty well for himself this season.
The HGs were given an hour to complete the competition but Spencer found all the tokens he needed to win in under four minutes, according to Judd. Well that was probably a letdown for BB! They can probably play it at normal speed on the show!
Which HG would you have wanted to win the $10,000 prize?
click to see full-size image