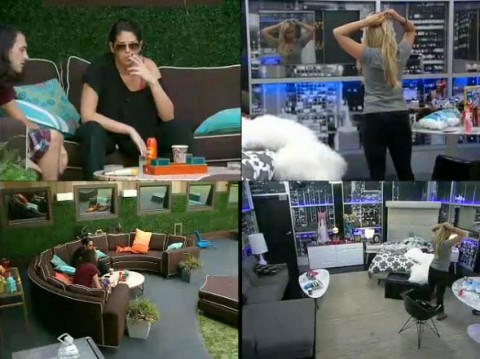 It's nomination day in the Big Brother 15 and things are going to get crazy later when GinaMarie puts up Amanda and McCrae instead of Elissa and anybody else. GinaMarie spent the day holding her little HOH meetings and that seems to be what her plan is. Also today, the houseguests were treated to a luxury contest.
Read about those moments and others on our Live Feed highlights below. And remember to sign-up now for the Big Brother Feeds so you can watch any of these moments by using the Flashback archive feature.
Big Brother 15 Live Feed Highlights –  Friday, Aug. 30, 2013
9:00 AM BBT – Feeds cut. Wake-up time.

9:15 AM BBT – Elissa and Judd talking about what GinaMarie is going to do with nominations. Judd said he thinks she's still putting up McCrae and Amanda.

9:56 AM BBT – Amanda tells GinaMarie that she's over emotionally exhausted and that she's staying away from Elissa. Amanda starts crying.

9:59 AM BBT – When Amanda leaves the room GM makes fun of Amanda crying to the cameras.

10:35 AM BBT – Houseguests are called to the HOH room for a lockdown.

10:45 AM BBT – Feeds cut to trivia for a while.

12:05 PM BBT – Feeds return and there's confetti and balloons all over the place. They've had a luxury competition.

12:09 PM BBT – HGs are being made to clean up the mess. Sounds like Spencer won the competition.

12:15 PM BBT – Spencer won $10,000.

12:45 PM BBT – Andy is being wishy-washy again and says he doesn't want to try to win the POV because he knows McCrae or Amanda will want him to use it. Spencer considers throwing it too.

12:50 PM BBT – Amanda tells McCrae that he has to talk to GM before nominations. He says he doesn't want to. Then he starts acting weird and saying weird stuff. He's actually acting like someone who is trying to break up with their girlfriend.

1:26 PM BBT – Amanda tells McCrae she's sick of being there and is over the game and doesn't care. McCrae tells her that's a horrible attitude to have.

1:32 PMBBT – McCrae confirms to Judd that he's annoyed with Amanda.

1:35 PM BBT – Amanda doing her favorite thing: bashing Elissa.

2:20 PM BBT – GinaMarie has started her HOH meetings just like last time. She starts with Elissa. She doesn't tell Elissa that McCrae is the real target. Elissa wants Amanda gone, obviously.

2:28 PM BBT – Andy pops up as usual and Elissa tells him to leave. Andy gets mad and tells everyone that Elissa kicked him out of the room.

2:35 PM BBT – Andy returns for his turn with GinaMarie.

2:52 PM BBT – Amanda is bashing Elissa and Judd some more. She's also pissed off that Spencer now has $10,000 and a trip to the Bahamas.

2:53 PM BBT – Spencer has talked with GinaMarie. The Judd comes in. Spencer leaves. Amanda keeps poking in because she hates the thought of Judd being alone with GM.

3:05 PM BBT – Amanda's turn with GM. She tells GM she needs to put up Elissa and Judd and if one of them wins veto, she can go up as a pawn.

3:10 PM BBT – Now it's McCrae's turn. He basically repeats everything Amanda said.
Expect some fireworks tonight after the nomination ceremony. Amanda is sure to be on a rampage after GM blindsides her and McCrae with nominations.
You can watch all of these Big Brother 15 events using the archives flashback, the DVR-like feature of this year's Live Feeds which means it's always live, even when you missed it! Sign-up now to get the free trial to watch it all live & uncensored.
click images to see full-size