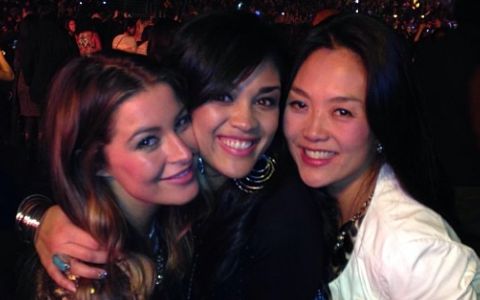 These Big Brother 15 HGs can't get enough of each other even months after the season has ended! This weekend we found out three former allies were getting back together for some fun in Chicago and maybe even a little talk of a new alliance.
Elissa Slater, Helen Kim Fitzpatrick, and Candice Stewart caught up in the Windy City to take in a Beyonce concert, a few drinks, a little shopping, go kart racing, and even some time out on the ice. It wasn't just the ladies either as they shared pictures of significant others and some very happy children enjoying all the activities.
The ladies even ran in to Keith (BB13) and threw together a little "Charlie's Angels" pose with him referencing back to his plan of a team of female allies designed to do his dirty work. I'm guessing that idea worked out better this time around!
Check out their pictures below and see all the fun they were up to this weekend!
click images to see full-size views
Update: Helen, Elissa, & Candice posted more pictures from their Chicago trip including some ice skating fun. Check out the new pics!
Source: Twitter 1, 2 & Instagram