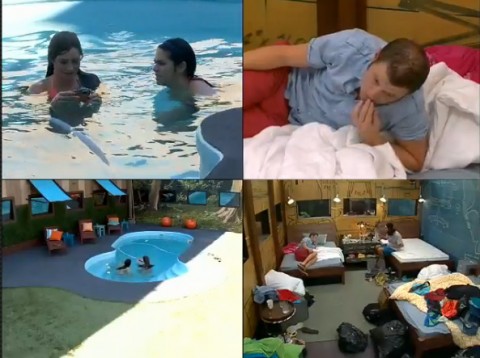 Things were pretty mild in the Big Brother 15 house today, I'm guessing because Amanda was back on her meds (her words, not mine) and because Aaryn has basically accepted that she's going home Thursday.
Read about those moments and others on our Live Feed highlights below. And remember to sign-up now for the Big Brother Feeds so you can watch any of these moments by using the Flashback archive feature.
Big Brother 15 Live Feed Highlights –  Tuesday, Aug. 27, 2013
10:08 AM BBT – Feeds cut. Wake-up time.

10:40 AM BBT – Judd and Aaryn appear to be the only ones up. Judd says there has to be a Pandora's Box soon.

11:40 AM BBT – Judd and Elissa are talking about the way Amanda has acted on the show. Judd says he feels sorry for her because he imagines the things she's said in the house effecting her job. Elissa says she is disgusting.

12:00 PM BBT – Elissa thanks Judd for sitting and talking to her. She's been lonely since Helen left.

1:36 PM BBT – Aaryn asking Elissa if Amanda told her to put Andy up so Aaryn would go home. Elissa basically tells her yes.

2:30 PM BBT – HOH camera time. HGs taking lots of photos.

3:05 PM BBT – Andy is still nervous he might go home. Amanda said Aaryn knows she's going and they've told her.

3:08 PM BBT – GinaMarie tells Aaryn they need to approach Elissa about the girls alliance she wanted so she can get people to keep Aaryn.

3:20 PM BBT – Elissa and Amanda are laughing and getting along and taking photos together.

5:40 PM BBT – All HGs are lounging or cleaning. No game talk or anything going on.

6:00 PM BBT – McCrae starts talking about a guys alliance.

6:42 PM BBT – McCrae is stuck on Elissa not needing the money and saying she doesn't deserve to be there.

7:35 PM BBT – Andy says he's played a good game under the radar, but now is the time for big moves.

8:00 PM BBT – General chit-chat. Amanda wants her back tattoo removed. Andy thinks it's weird that Helen was 11 years older than him. GM and Spencer think the Sandy Hook shooting was a conspiracy. GM also questions 9/11 and the Boston bombings.

9:30 PM BBT – Elissa tells Judd she wasn't really having fun with Amanda earlier. She still thinks she's gross.

9:50 PM BBT – The HGs got wine and beer and Amanda won't let anyone have any because she wants to play beer pong.

10:03 PM BBT – Amanda  harassed BB until they gave them paper cups for beer pong.

10:15 PM BBT – Amanda is bossing everyone around over the alcohol and everyone is getting annoyed.

11:00 PM BBT – Beer pong is over. HGs are now just sitting around telling stories and playing random games.

11:18 PM BBT – Feeds cut because Amanda is playing some game that involves singing.

11:28 PM BBT – Aaryn tells the backyard group that Elissa has a secret crush on Judd and that Elissa is jealous of Aaryn flirting with Judd. Amanda wants to give Elissa a hard time about it.

11:30 PM BBT – Amanda gets up to tell Elissa she knows what she said about Judd. Amanda and Elissa are laughing about it. Elissa says Aaryn is crazy.

11:36 PM BBT – Elissa is now joking and telling Judd that her plan was to go on Big Brother and leave her husband. Then she says actually in Canada you can have more than one husband now.

11:40 PM BBT – Elissa tells Amanda she asked Big Brother to bring Judd back into the game for her. It's actually fun to see Elissa and Amanda laughing together.

12:00 AM BBT – Amanda challenging Spencer that he wants to come after McCranda based on Aaryn's claims. Aaryn trying to use this to argue she should stay over Andy so she can help McCranda.

12:10 AM BBT – Inside Amanda tries to convince McCrae that they should keep Aaryn. McCrae says no. He suggests it'll make things worse for them with other HGs if they vote out Andy.

12:20 AM BBT – Judd and GM discuss eviction order for McCranda. Judd wants McCrae gone first since he thinks he's better at competitions. They know if McCranda wins HoH then Elissa is done.

3:00 AM BBT – GM is upset that Aaryn has started campaigning again and is doing it by out'ing everyone's plans, mainly that everyone is after McCranda.

3:10 AM BBT – Exterminators meet in the backyard while everyone else is asleep. GM is still upset about Aaryn. Andy says McCranda is gunning hard for Elissa and they think they have him. They recognize that if McCranda gets HoH and then Elissa gets Veto then they are screwed and one of them will leave.

3:15 AM BBT – GM pointing out how strong McCrae was in the first HoH comp, but after he got with Amanda it killed his fire to compete.

3:30 AM BBT – Sleepytime for the HGs.
The houseguests were oddly getting along all day. Aaryn is still quietly trying to stay, but it doesn't sound like she's getting anywhere.
You can watch all of these Big Brother 15 events using the archives flashback, the DVR-like feature of this year's Live Feeds which means it's always live, even when you missed it! Sign-up now to get the free trial to watch it all live & uncensored.
click images to see full-size