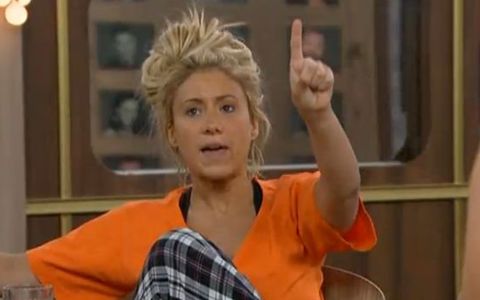 We're closing in on the next Big Brother 15 eviction and with the final nominations set we can confidently say which HG will be the next to join the Jury house. Of course that won't stop HGs from campaigning, as they rightfully should, but it's unlikely to change a thing at this point. Read on for the spoilers or steer clear if you want to remain surprised for the next two episodes.
Elissa's final nominations are now set with Aaryn and Andy on the block. McCrae was saved at Monday's Veto Ceremony when Amanda used the PoV. Despite all his fake tears and panicky methods Andy still went up on the block as Elissa's insurance plan to make guarantee Aaryn left the game.
There will be five total votes this week with no chance of a tie-breaker by Elissa. Amanda, GinaMarie, Judd, McCrae, and Spencer will be voting on Thursday night.
Amanda tried everything she could think of, including harassing Elissa for an entire afternoon, in an attempt to avoid having two members of the 3AM alliance on the block, but it didn't work. Now McCranda will have to decide which to vote against. Amanda has repeatedly pushed for Aaryn to stay, but McCrae doesn't trust her and wants her gone.
It doesn't really matter what Amanda wants because Andy has his own plan for survival: The Exterminators. Made up of four HGs (Andy, GinaMarie, Judd, & Spencer) the Exterminators promised to protect and vote to keep whichever one of them went up on the block. That means Andy has three votes and that's all it takes.
Earlier in the week Aaryn realized her game was sunk and even instructed GM to vote against her so she could go with the house. GM was already planning to do this but now she had explicit permission to do so. Since then we have seen Aaryn campaign again including throwing other HGs under the BB bus, but it hasn't changed a thing.
Watch for Aaryn to be evicted on Thursday night by a count of 5-0. She'll become the 4th member of the Jury as we march toward the September 18th finale.
Who do you expect to be voted out this week? Vote in the poll below.