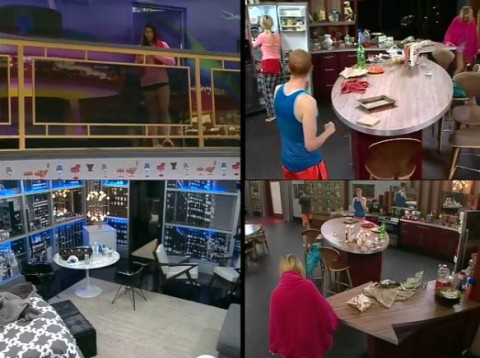 It was another quiet day in the Big Brother 15 house. Aaryn is all packed and ready to head to jury tonight. Aside from a few nerves from Andy, that's basically what everyone is ready for. There should be zero surprises tonight.
Read about those moments and others on our Live Feed highlights below. And remember to sign-up now for the Big Brother Feeds so you can watch any of these moments by using the Flashback archive feature.
Big Brother 15 Live Feed Highlights –  Thursday, Aug. 29, 2013
7:54 AM BBT – Andy is stirring and up but goes back to bed.

10:05 AM BBT – Feeds cut. Wake-up time.

10:21 AM BBT – Feeds return. Judd, Elissa and GinaMarie are awake. Others still sleeping.

10:43 AM BBT – Aaryn is mad that she trusted Amanda and McCrae. She says that has been her fatal flaw.

10:50 AM BBT – Judd and GinaMarie are back asleep.

10:56 AM BBT – Elissa tells Andy she told Aaryn to let jury know what Amanda has been up to and that she needs to give Amanda all the credit for the bad stuff that has gone on.

11:12 AM BBT – GinaMarie says she's feeling better. She hurt  her back yesterday.

11:26 AM BBT – Elissa doing yoga.

11:30 AM BBT – Houseguests are on HOH lockdown so producers can do their live show thing downstairs.

11:35 AM BBT – Feeds cut to trivia for live show prep.

12:58 PM BBT – Feeds return.

1:11 PM BBT – Aaryn is nervous Julie will ask her tonight about making out with Judd the night before.

1:15 PM BBT – Amanda wonders if people really hate her. Andy says there will be people who really like her and people who really hate her. Amanda thinks she should win America's Favorite Player.

1:20 PM BBT – Andy is packing just in case something he goes wrong.

1:43 PM BBT – Aaryn tells GinaMarie she has to win HOH tonight.

1:50 PM BBT  – Amanda is messing with Andy. She says, what if people say the wrong name during the vote since Aaryn and Andy sound alike. He tells her to stop saying that.

2:00 PM BBT – Aaryn tells Judd that she will not vote for Amanda if she's in the final two. She says she hates Amanda. She also warns Judd not to trust Andy.

3:05 PM BBT – Elissa is cutting Andy's hair.
It sounds like Aaryn will be busy in jury telling everyone not to vote for Amanda if she makes it to the final two. It will be interesting to see who wins the HOH competition tonight and where loyalties lie now that Aaryn will be gone.
You can watch all of these Big Brother 15 events using the archives flashback, the DVR-like feature of this year's Live Feeds which means it's always live, even when you missed it! Sign-up now to get the free trial to watch it all live & uncensored.
click images to see full-size