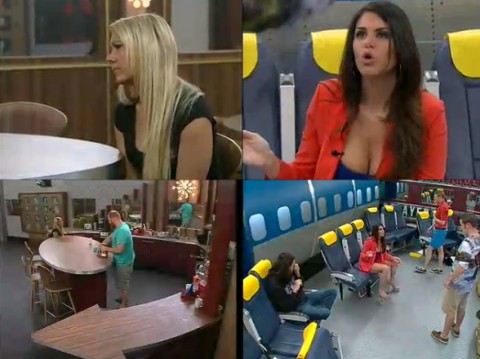 In a rare daytime occurrence, the Big Brother 15 Live Feeds were pretty entertaining today. Not only did the houseguests wake up before 1 PM, there had a whole Veto Ceremony, named a replacement nominee and gave us several spats and tears!
Read about those moments and others on our Live Feed highlights below. And remember to sign-up now for the Big Brother Feeds so you can watch any of these moments by using the Flashback archive feature.
Big Brother 15 Live Feed Highlights –  Monday, Aug. 26, 2013
8:26 AM BBT – Feeds cut. Early wake-up time.

8:50 AM BBT – Andy is pacing and clearly nervous about the nomination ceremony.

9:18 AM BBT – Andy asks Elissa what her plan is. She tells him he is probably going up but he won't go home. He says he will go home and that if she puts up GinaMarie he swears he'll vote out Aaryn.

9:25 AM BBT – Andy is really spazzing. Elissa tells him to calm down because he's never been up and he will never be tortured like she was by Amanda yesterday.

9:36 AM BBT – GinaMarie again telling Elissa she will vote Aaryn out if it helps her in the game.

10:13 AM BBT – Feeds cut to trivia for veto ceremony.

10:51 AM BBT – Feeds return. Andy is up. Amanda telling Judd that they aren't voting out Andy and that all the talk of doing so was a plan to try to get Elissa to put GM up.

10:54 AM BBT – Judd offers McCranda a deal to keep him safe next week and he'll keep them safe. They agree on it.

11:00 AM BBT – Judd tells Andy that he was lying about the deal to McCranda. Andy said he is done keeping them safe too.

11:05 AM BBT – Amanda is harassing Elissa again. She asks her how many doctors it took to make her face look that way.

11:09 AM BBT – Andy and Judd swear they are serious on their final four deal with Spencer and GM. They call themselves The Exterminators.

11:15 AM BBT – Andy says if he ends up getting evicted by Elissa's HOH, he will slit his throat on live TV.

11:25 AM BBT – Elissa goes outside to do yoga and Amanda is heckling her.

11:40 AM BBT – Amanda tells Aaryn she's the only one who seems to want Aaryn to stay. She starts crying so Amanda comforts her. Amanda said she tried so hard to get GM up. Aaryn says that Elissa getting her out is a pretty big move. Amanda feels defeated and says this is the first week she hasn't gotten what she wanted with evictions.

12:13 PM BBT – Aaryn and GM are crying about Aaryn leaving. Aaryn tells her to  just vote with the majority and not risk her game by throwing Aaryn a vote.

12:28 PM BBT – Amanda is mad that Andy is being nice to Elissa. She doesn't like that she's the only one giving Elissa a rough time. Amanda is getting fired up and says she wants to punch Elissa in the face. Then she points out that it's not a threat. Spencer tells her to calm down. Amanda says if Elissa doesn't go up on the block next week she will explode.

12:41 PM BBT – Amanda says if she sees anyone talking to Elissa that person will go up next to her.

1:40 PM BBT – As soon as McCrae walks away from Judd and Andy, Andy says McCranda needs to be split up. He might actually be serious.

2:12 PM BBT – GM tells Elissa that she thinks even McCrae and Amanda are voting Aaryn out and Aaryn knows.

2:28 PM BBT – Andy feels pretty safe. He knows everyone is voting Aaryn out.
It sounds like Aaryn is definitely headed to jury this week. So what we'll have our eyes on is how this apparent new alliance plays out and who Andy is actually being loyal to.
You can watch all of these Big Brother 15 events using the archives flashback, the DVR-like feature of this year's Live Feeds which means it's always live, even when you missed it! Sign-up now to get the free trial to watch it all live & uncensored.
click images to see full-size