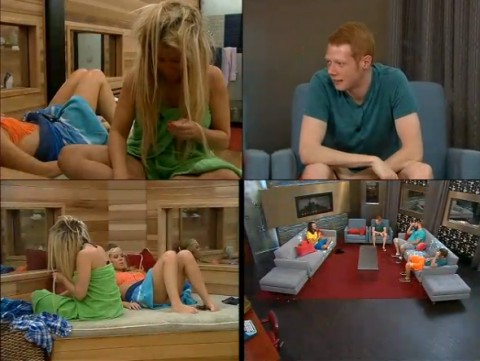 It was a long and eventful day in the Big Brother 15 house. Earlier in the day we had the veto ceremony and learned that who the HoH named as the replacement nominee. That lead to some nerves from both of the final nominees that spilled over into the night.
Read about those moments and others on our Live Feed highlights below. And remember to sign-up now for the Big Brother Feeds so you can watch any of these moments by using the Flashback archive feature.
Big Brother 15 Live Feed Highlights –  Monday, Aug. 26, 2013
4:10 PM BBT – Aaryn tells Elissa if she gets people to keep her she'll put up McCrae and Amanda and take all of Amanda's heat off Elissa.

4:24 PM BBT – Elissa tells Andy that Aaryn was just throwing him under the bus. He's not surprised and doesn't make anything of it.

4:55 PM BBT – McCrae and Elissa are talking about their fight the day  before. He says it wasn't cool when she laughed in their faces when they were nervous. McCrae also brings up Elissa being mean to Amanda on his birthday. They're apologizing to each other.

5:35 PM BBT – McCrae tells Amanda about his conversation with Elissa. She tells him to stop talking to her.

5:45 PM BBT – GinaMarie is annoyed with Amanda's Elissa hatred. She says she's taking it to a personal level.

5:47 PM BBT – McCrae tells Amanda she needs to back off Elissa and that people are annoyed with it. She starts crying. Amanda says she knows her social game is over so now she has to focus on competitions.

5:55 PM BBT – McCrae, Amanda, Spencer and Andy are having an Elissa-bashing session outside.

7:15 PM BBT – Aaryn tells GinaMarie she's not giving up yet. She plans to continue campaigning.

8:10 PM BBT – Everyone is eating the dinner Amanda made, even Elissa. Wait, GinaMarie isn't. But the point is, even Elissa is eating with them.

8:30 PM BBT – Amanda promises Andy he will not be blindsided.

9:10 PM BBT – Spencer tells Judd and Elissa that McCrae and Amanda need to be split up.

9:20 PM BBT – Aaryn and Judd talking. She's talking about all the dirty work she did for Amanda and now they can't even save her. She seems to be proud of getting Helen out. Aaryn regrets nominating Judd in the double eviction but she mentions Helen threatened her.

10:00 PM BBT – Spencer joins the conversation between Aaryn and Judd. Aaryn asks him since they're alone will he tell her why he'd be apprehensive about keeping her this week. He tells her that he's not sure about her loyalty and how each she is to flip on people.

10:33 PM BBT – Amanda is annoyed that Aaryn is throwing everyone under the bus since her days are numbered. She thinks it's a bad move.

10:47 PM BBT – Aaryn asking Amanda to vote for her and Amanda tells her that she's hearing Aaryn is saying they're not trustworthy.

10:53 PM BBT – They get booze. Judd trades his alcohol for some cigarettes.

11:00 PM BBT – HGs lounging and drinking.

11:45 PM BBT – Amanda and Elissa are having a calm conversation. Amanda explains to Elissa that they never planned to vote out Andy. She said she just wanted to save them both. Amanda explains why she felt loyal to Aaryn. Amanda tells Elissa if Aaryn was her original target, then Elissa's HOH was a success.

12:00 AM BBT – Amanda and Elissa apologize to each other. Amanda tells Elissa she had her back. Elissa says no, she didn't. They end the talk in a hug.

2:05 AM BBT – McCrae thinks there will be an event in the house on Tuesday. He won't say out loud why, but tries to mouth it to Judd and Spencer.

2:15 AM BBT – Exterminators, minus GM, start talking in the backyard. They are confident that GM will stay good to them. Judd suggests getting out McCrae before Amanda. They agree that if McCranda gets HoH to support them going

2:25 AM BBT – Alone, Spencer questions Andy on telling Aaryn that they had a F2 deal. Andy denies it, but Spencer is concerned of being called out or the implications of Andy freely revealing that information.

2:50 AM BBT – Spencer talks to Judd and makes sure he's good with Andy. Judd says he is.

3:30 AM BBT – HGs all tucked away awaiting Thursday's eviction.
It's not sounding like Aaryn is getting anywhere with her campaigning. Right now it looks like she'll be heading to jury Thursday and Andy will just finally get to know what it feels like being on the block.
You can watch all of these Big Brother 15 events using the archives flashback, the DVR-like feature of this year's Live Feeds which means it's always live, even when you missed it! Sign-up now to get the free trial to watch it all live & uncensored.
click images to see full-size