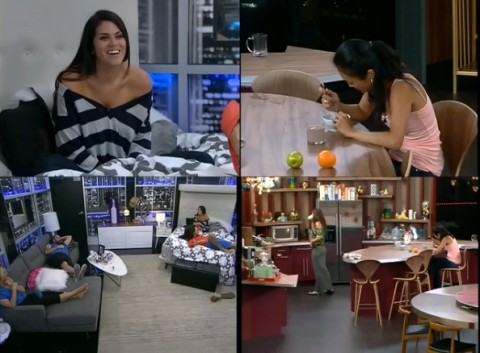 It might have been eviction eve in the Big Brother 15 house, but it didn't really feel like it. Instead of working hard to flip the house, Helen spent most of the night fighting. The rest of the night was all about Amanda being crass and grumpy and Aaryn nearly poisoning herself.
Read about those moments and others on our Live Feed highlights below. And remember to sign-up now for the Big Brother Feeds so you can watch any of these moments by using the Flashback archive feature.
Big Brother 15 Live Feed Highlights –  Wednesday, Aug. 21, 2013
4:55 PM BBT – Helen and Elissa are having a cry. Helen has accepted that she's going home. She just keeps telling Elissa to fight for herself and stay in the game.

5:10 PM BBT – McCrae says he's bored with the game and there better be some twist announced tonight.

5:40 PM BBT – Helen is teary-eyed and packing her bags.

5:48 PM BBT – Amanda has ONCE again changed her mind on her alliance and loyalties. Now she and McCrae are telling Andy they'd rather go to the final four with Spencer instead of Aaryn.

6:10 PM BBT – Aaryn says it's sad that Helen is crying. Amanda can't understand why it's sad. Is Amanda playing this game or is she really a sociopath?

6:22 PM BBT – Spencer is afraid Helen will get Andy and GinaMarie to flip and he'll go home.

6:25 PM BBT – Amanda tells Spencer not to even pack his bags for eviction. He says he will just to not be a dick.

6:45 PM BBT – Amanda just compared herself to Dr. Will.

7:11 PM BBT – Now Helen says she isn't done campaigning yet and will do so all the way up to the last minute tonight.

7:12 PM BBT – Amanda is seriously getting upset over a hypothetical situation. And yes, it's about whether or not McCrae would sleep with Janelle if she were in the house. Amanda is insane.

7:55 PM BBT – Aaryn accidentally takes a drink of her nail polish remover. She thought it was her water.

7:57 PM BBT – Aaryn gagging and afraid she's going to get sick. Feeds cut.

8:05 PM BBT – Feed return and Aaryn called to the Diary Room.

8:15 PM BBT – Aaryn is fine.

8:56 PM BBT – HGs are talking about what they'd do with the money if they won Big Brother.

9:45 PM BBT – Most of the HGs are talking about their favorite subject: Elissa.

10:10 PM BBT – McCrae says he thinks production tells Elissa what to say. Big Brother tells him to stop talking about production.

11:05 PM BBT – HGs worry about GM after the show is over and she can watch what Nick really thought. He very kind in post-eviction interviews, so I think that won't be a problem.

11:20 PM BBT – HoH room discussing Elissa. Andy still going on about feeling threatened when she said he'd be a target. Oh come on, Andy. 'I'm going to punch you if you vote out Helen,' is a threat. 'I'm going to come after you in this game,' is not some horrendous, terrifying threat.

11:40 PM BBT – Helen sticking up for Elissa to Aaryn.

11:55 PM BBT – Aaryn tells GM that if she wins HoH then they can make their own choices this time.

12:00 AM BBT – It's GM's birthday. All the HGs, except Elissa, get together to celebrate.

1:55 AM BBT – HGs begin speculating about possible endurance comp on Thursday night.

2:05 AM BBT – Aaryn discussing drinking nail polish earlier. She says DR asked her how much she had and why she did it.

2:20 AM BBT – HGs worry about Elissa getting HoH. They don't know who she'd target or who would go home.

2:45 AM BBT – Aaryn tells GM that she expects someone to come back and how they'll need a double eviction as a result.

3:25 AM BBT – McCrae and Spencer having their late night check-in. Spencer says he wants to keep McCrae over Amanda if it comes down to that choice. McCrae wants Amanda to stay until at least F4 with him, Spencer, and Andy. McCrae says he'd pick Spencer over Amanda and thinks she'd understand. McCrae says he'll shave his head in the Veto comp if it comes down to it.

3:45 AM BBT – Spencer's fear is GM getting HoH, nominating him and Elissa, Elissa wins HoH, and Amanda gets renom'd beside him. McCrae tells Spencer he'd probably be the one to stay.
So Helen is leaving tonight. That's a done deal. Amanda will have it no other way. And we already know no one is going to stab her in the back. So Helen will be joining Candice, Judd and Jessie in the battle to return to the game.
You can watch all of these Big Brother 15 events using the archives flashback, the DVR-like feature of this year's Live Feeds which means it's always live, even when you missed it! Sign-up now to get the free trial to watch it all live & uncensored.
click images to see full-size