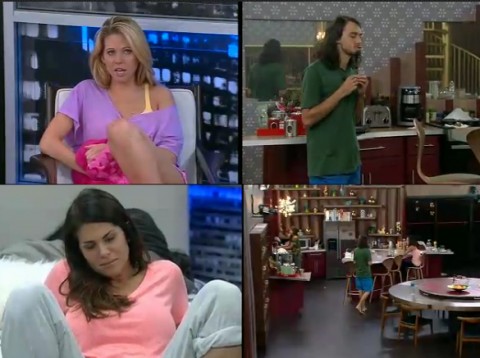 It's getting down to the wire in the Big Brother 15 house and Helen is feeling pressured, so she and Elissa are getting tougher with their tactics and it's causing quite a stir. There have been several shouting matches throughout the day, including one between Andy and Elissa.
Read about those moments and others on our Live Feed highlights below. And remember to sign-up now for the Big Brother Feeds so you can watch any of these moments by using the Flashback archive feature.
Big Brother 15 Live Feed Highlights –  Wednesday, Aug. 21, 2013
9:40 AM BBT – Feeds cut. Wake-up time.

11:00 AM BBT – Most  HGs still asleep. Helen is running.

11:20 AM BBT – Amanda is suggesting Elissa gets special treatment and says she probably even gets food in the Diary Room since she's a Have-Not.

11:35 AMBBT – Elissa and Aaryn talking about working together and not coming after each other. "And you don't deserve to win because you are playing Amanda's game," she says. Aaryn isn't very happy about this.

12:12 PM BBT – Elissa is pushing for Spencer to go. She tells Aaryn that him staying just makes McCranda a stronger force.

12:14 PM BBT – Helen comes to HOH and Elissa goes. Aaryn feels like Elissa is threatening her and is saying she can't work with her.

12:47 PM BBT – Helen and Aaryn are crying to each other in the HOH room. Both are upset about the vote and what's going to happen and what they should do.

1:30 PM BBT – Andy goes to the HOH room where Helen and Elissa are. Elissa tells him they know he's voting out Helen. He tells them he's thinking about it as a move for his game. Andy thinks Helen is threatening him so he yells at her. She apologizes. The talk goes in circles.

1:44 PM BBT – After Aaryn tells Amanda that her name was coming up in the HOH, Amanda goes up there to throw her weight around. Helen tells her she was not throwing her under the bus.

1:53 PM BBT – Andy and Elissa are shouting at each other. He accuses her of threatening him. She says they're all ridiculous and leaves.

2:04 PM BBT – Everyone is now making personal attacks on Elissa. It gets ugly and goes on for a long time.

2:20 PM BBT  – Aaryn says Elissa is the worst person she's ever met. She tells GinaMarie that there's no way they can work with her when Helen leaves.

2:30 PM BBT – Now Amanda is telling McCrae and Spencer to harass Elissa to get her to self-evict.

3:15 PM BBT – Andy and Elissa are apologizing to each other. Andy, of course, is thinking about jury votes.
Helen is getting no where this week because the house is just really over Elissa and they're not ready to leave Helen in there to help Elissa move any further in the game next week. She is most certainly getting evicted tomorrow, but will she get to come right back?
You can watch all of these Big Brother 15 events using the archives flashback, the DVR-like feature of this year's Live Feeds which means it's always live, even when you missed it! Sign-up now to get the free trial to watch it all live & uncensored.
click images to see full-size