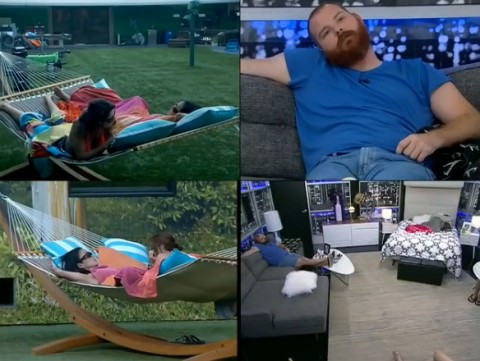 It was a pretty quiet night in the Big Brother 15 house. Helen hasn't quite accepted her fate yet, but it seems like she decided to dial back the campaigning for the day. The rest of the houseguests are looking ahead to next week and planning all the what ifs.
Read about those moments and others on our Live Feed highlights below. And remember to sign-up now for the Big Brother Feeds so you can watch any of these moments by using the Flashback archive feature.
Big Brother 15 Live Feed Highlights –  Tuesday, Aug. 20, 2013
4:53 PM BBT – Aaryn is mad because Amanda had a long conversation with Elissa. Aaryn thinks if Elissa wins HOH she'll come after her instead of Amanda. Aaryn tells Amanda "thanks a lot."

4:59 PM BBT – Helen and Elissa are talking about the conversation Elissa had with Amanda. Elissa says Amanda wasn't very happy when she told her that Spencer would win in a finale against any of them.

5:00 PM BBT – Spencer is talking about what a waste of time all this talk and worry is because Elissa will just go home next week.

5:25 PM BBT – Amanda tells Aaryn she needs to trust her and not to worry about Amanda. She says she's trying to take control of Elissa when Helen goes to benefit their alliance. Aaryn is still skeptical.

7:00 PM BBT – Houseguests are talking about what people might be saying about them on the internet and whether or not they'll read it.

7:05 PM BBT – Aaryn says they were cast because they're all "bat-shit crazy."

7:45 PM BBT – HGs are having a graphic sex discussion.

8:30 PM BBT – General chit-chat about pop culture going on in the house and not much else.

9:05 PM BBT – Spencer and Andy agree that GinaMarie is the most-likely to kill somebody. They predict she'll end up in a mental institution or prison.

9:45 PM BBT – Helen and Elissa are talking about who they'd vote for in final two and Helen is still trying to figure out a way to save herself this week.

10:44 PM BBT – The HGs get beer but no wine. They think Aaryn hid it so they start searching for it.

10:50 PM BBT – Aaryn is upset about losing GinaMarie next week. I guess she thinks GM is going home next week.

11:00 PM BBT – Aaryn is still upset and says she gets this way near the end of each HOH reign.

11:30 PM BBT – Aaryn tries to cause more trouble by telling Spencer and Andy that Amanda thinks Andy would beat anyone if he gets to the F2.

12:00 AM BBT – Elissa thinks they could get Andy's vote this week. Helen isn't so hopeful. Elissa wants Amanda needs to go before Andy.

12:10 AM BBT – McCrae tells Amanda they should consider Spencer for F3 and get rid of Aaryn next week.

12:15 AM BBT – Helen wonders if America was MVP and was trying to tell the HGs something by nominating Amanda.

12:50 AM BBT – HoH crew wondering what the Feedsters will think of them. McCrae thinks McCranda won't be well liked, but Amanda thinks she'll be liked.

2:00 AM BBT – Andy and GM discussing Helen still working for Andy's vote. They're worried that if Helen stayed then Elissa would just be stronger. GM promises F3 with Aaryn to Andy.

3:00 AM BBT – Aaryn working on Spencer to evict Amanda. She tells him he'd have McCrae if Amanda was gone. Spencer thinks he could beat McCrae at the end, but no one could beat Amanda.

3:20 AM BBT – Andy runs to McCranda to tell them he saw Aaryn and Spencer talking.

3:30 AM BBT – Spencer talking to Andy about Aaryn wanting Amanda out. Andy isn't concerned as long as they're not in the middle. He's okay with letting Amanda and Aaryn go at each other. Spencer warns Andy that Aaryn doesn't trust him (Andy).

3:40 AM BBT – McCrae wants to nom Spencer and GM, but then backdoor Elissa or Aaryn.

3:50 AM BBT – Amanda says their 3AM alliance is more like 2AM. She doesn't trust Aaryn.

4:10 AM BBT – McCrae tells Spencer he wants to go to F2 with him. McCrae is worried Andy would pick Amanda to go to the end over him. Spencer says no one but Aaryn could beat Amanda at the end. Spencer says he'd nominated GM and Elissa with Aaryn as the renom if he wins HoH.
It sounds like Helen has Elissa nice and trained on what to do when she goes home this week. Whether or not it will play out that way is anybody's guess. But also, Amanda seems to think keeping Elissa around an extra week might help them clear out another body or two without getting blood on her hands.
You can watch all of these Big Brother 15 events using the archives flashback, the DVR-like feature of this year's Live Feeds which means it's always live, even when you missed it! Sign-up now to get the free trial to watch it all live & uncensored.
click images to see full-size