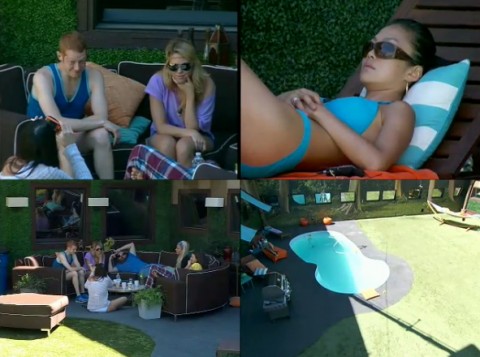 It has been a very quiet day in the Big Brother 15 house. Helen is still counting votes and has just the slightest bit of hope left. But just in case all hope is lost, she spent the day trying to help Elissa make it further in the game. The rest of the houseguests slept all day.
Read about those moments and others on our Live Feed highlights below. And remember to sign-up now for the Big Brother Feeds so you can watch any of these moments by using the Flashback archive feature.
Big Brother 15 Live Feed Highlights –  Tuesday, Aug. 20, 2013
10:33 PM BBT – Wake-up time.

11:00 AM BBT – Helen is outside running, Elissa is making coffee. Aaryn is up in the HOH room.

11:30 AM BBT – Helen tells Elissa that she might have McCrae's votes but does not have Amanda's. She says it depends on Andy.

11:38 AM BBT – Helen talking about Aaryn being concerned how she's viewed by America. Elissa says she's being viewed like the horrible person she is. Helen defends Aaryn but Elissa isn't having it.

1:08 PM BBT – Helen is again telling Elissa she needs to get along with Aaryn if she wants to last more than a week after Helen leaves. Elissa is still not interested in siding with Aaryn.

1:20 PM BBT – Elissa says she NEVER wants to talk to Aaryn or GinaMarie after the show ends.

2:05 PM BBT – Some of the other houseguests are FINALLY starting to wake up.

2:30 PM BBT – Amanda asks Elissa if they can talk when she gets the chance.

2:45 PM BBT – Amanda and Helen are talking. Amanda tells Helen her feelings were  hurt when Helen called her a bully. Helen tells Amanda she loves her and doesn't want to leave the game on bad terms with Amanda. And then Amanda starts crying and acting crazy about not wanting to leave McCrae. These people need help.

3 PM BBT – Aaryn has the HOH camera. The HGs are taking photos in the back yard.

3:15 PM BBT – Helen is again telling Elissa she has to work with Aaryn. But Elissa really, really does not want anything to do with Aaryn. She says she's a horrible person and has nothing to offer.
So Elissa is going to be backed into a corner when Helen goes this week unless the returning player is Helen or someone she plans to work with. The rest of the game will is starting to look like it'll be as predictable as the first half of the game.
You can watch all of these Big Brother 15 events using the archives flashback, the DVR-like feature of this year's Live Feeds which means it's always live, even when you missed it! Sign-up now to get the free trial to watch it all live & uncensored.
click images to see full-size