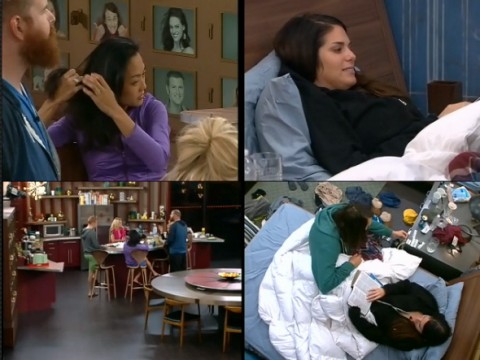 Helen is not going down without a fight so she spent a lot of the evening on the Big Brother 15 Live Feeds campaigning for herself. She's making a lot of great points, even to McCrae. But no one is willing to go against Amanda, so Helen is accepting the inevitable.
Read about those moments and others on our Live Feed highlights below. And remember to sign-up now for the Big Brother Feeds so you can watch any of these moments by using the Flashback archive feature.
Big Brother 15 Live Feed Highlights –  Monday, Aug. 19, 2013
4:28 PM BBT – Helen is upset that Andy is too afraid to vote to save her because since she's his closest ally.

4:55 PM BBT – Spencer and Aaryn chatting. She teals him she was close to putting Amanda up. She says now she just really wants Elissa gone next week.

6:10 PM BBT – Aaryn tells Amanda about Helen telling her and Elissa to work together after this week. Aaryn says that isn't happening.

6:12 PM BBT – Aaryn and Amanda talking about them in a final two together. They agree they'd be the hottest final two ever and the votes would be split.

6:20 PM BBT – Amanda says she's afraid McCrae is distancing himself from her.

6:25 PM BBT – Helen working on McCrae still. She tells him that Amanda is a bully and he's probably being portrayed like the lost puppy following Amanda around. She's basically saying if he votes Spencer out this week, Helen will protect him and they can get rid of Amanda.

7:15 PM BBT – McCrae tells Amanda that Helen said she is being portrayed as the house bully. She asks the others if she's a bully. She thinks she'd have to Evel Dick someone to be considered a bully.

7:35 PM BBT – Aaryn tells Helen that McCrae is worried what the Live Feed watchers think of him and had hoped he'd win America's Favorite. Helen says she doesn't think that will happen with him being Amanda's puppy.

7:55 PM BBT – Amanda says she doesn't understand why anyone would think she's a bully. Spencer tells her she's blatantly bullied him and she says she doesn't remember.

8:25 PM BBT – Helen and Elissa talking about how wrong McCrae and Amanda are as a couple.

8:58 PM BBT – Amanda is trying to figure out if something is wrong with McCrae. He says nothing is wrong, but he really acts like he's over her.

9:07 PM BBT – McCrae says he thinks he'll go home before Amanda.

9:50 PM BBT – Helen and Andy are talking and both are crying. Andy again lies and tells her he's voting to keep her.

10:22 PM BBT – Elissa tells Helen she wants to win HOH and put up Amanda and Aaryn.

11:55 PM BBT – HGs speculating whether or not Judd and Jessie made up and are enjoying their time in Jury. Most think they're having sex.

1:00 AM BBT – Aaryn says she nearly told Helen she was going home this week. Amanda says she got grief for telling Jeremy he was going home.

1:25 AM BBT – McCranda in the backyard. He's nervous about PDA after GM made a comment earlier in the day. McCrae is worried they'll be targeted for being together.

1:40 AM BBT – Amanda complaining to McCrae again about Helen calling her a bully. McC blows it off.

2:00 AM BBT – Aaryn has entered 'paranoid mode' and is telling Amanda how everyone worries her. She doesn't think McCrae trusts her and she is still worried about how well Andy lies to others so he may be lying to her too. Amanda tries to reassure her.

2:25 AM BBT – McCranda discuss how they can smooth things over next week with Elissa and bring her in to the fold to use.

2:45 AM BBT – Sleepytime. HGs all in bed.
Helen is most definitely getting evicted this week, so people are already starting to look ahead to next week, which has been the theme this entire season. Here's to hoping someone comes back this Thursday to shake things up.
You can watch all of these Big Brother 15 events using the archives flashback, the DVR-like feature of this year's Live Feeds which means it's always live, even when you missed it! Sign-up now to get the free trial to watch it all live & uncensored.
click images to see full-size