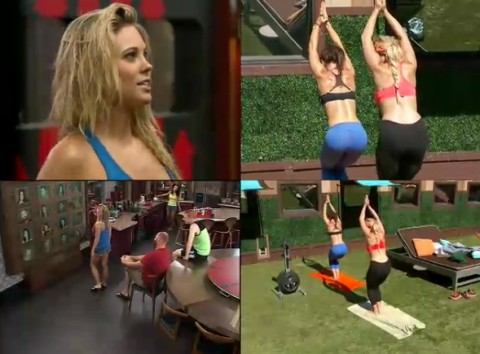 It's been a crazy day in the Big Brother 15 house with Jessie's one-woman show. And I have to say, thank goodness for Jessie because after the Houseguests slept until noon today, I was worried it would be a boring day.
Read about those moments and others on our Live Feed highlights below. And remember to sign-up now for the Big Brother Feeds so you can watch any of these moments by using the Flashback archive feature.
Big Brother 15 Live Feed Highlights –  Tuesday, Aug. 13, 2013
10:02 AM BBT – Feeds cut. It's wake-up time. Yes, at 10 AM. Ridiculous.

10:25 AM BBT – Feeds return. HGs are finally starting to get up. Wait. No, they're all back in bed.

11:05 AM BBT – Aaryn finally gets up and starts getting ready.

11:50 AM BBT – Helen and Elissa are finally awake.

12:08 PM BBT – Helen running in back yard. Aaryn working out. They talk a bit. Helen says she doesn't see Aaryn and GinaMarie as a pair anymore.

1:15 PM BBT – Elissa, Aaryn and the others say they're afraid Jessie is going to mess with their stuff or put something in their drinks.

1:19 PM BBT – Aaryn tells GinaMarie that everyone is just going to ignore Jessie today.

1:25 PM BB – Jessie is getting wound up again. Even after her showdown with Helen last night. She yells to Aaryn that Elissa still talks badly about her.

1:30 PM BBT – Aaryn tells Jessie to shut up and Jessie says she doesn't have to.

1:35 PM BBT – Now Amanda is getting involved. Of course. Jessie tells Amanda that she and Andy were working together. She says her goal is to make sure Amanda knows Elissa and Helen are after Amanda and McCrae. Amanda says she already knows that.

1:45 PM BBT – Jessie tells Amanda that even though Amanda hasn't won anything, she's the most powerful person in the game.

2:00 PM BBT – Jessie calls Elissa "Rachel's Shadow" while they're both in each of the showers.

2:14 PM BBT – Jessie calls Helen a liar and Helen leaves.

2:25 PM BBT – Jessie back to taunting Elissa. Now she's tanning right up next to her.

2:30 PM BBT – Andy has his HOH camera and is taking pictures amid the Jessie display. She tells him to take a photo of her and "Rachel's Shadow."

2:50 PM BBT – Jessie is now asleep. Haha.

3:10 PM BBT – Jessie is back up and is taunting Elissa again.

3:19 PM BBT – Helen is being very self-righteous.

3:35 PM BBT – Elissa and GinaMarie are doing yoga.
So unless Jessie puts such a big target on her back someone decides to keep her, she's out this week and Spencer again escapes eviction. And there's still two days left for her wrath to continue, so enjoy.
You can watch all of these Big Brother 15 events using the archives flashback, the DVR-like feature of this year's Live Feeds which means it's always live, even when you missed it! Sign-up now to get the free trial to watch it all live & uncensored.
click images to see full-size